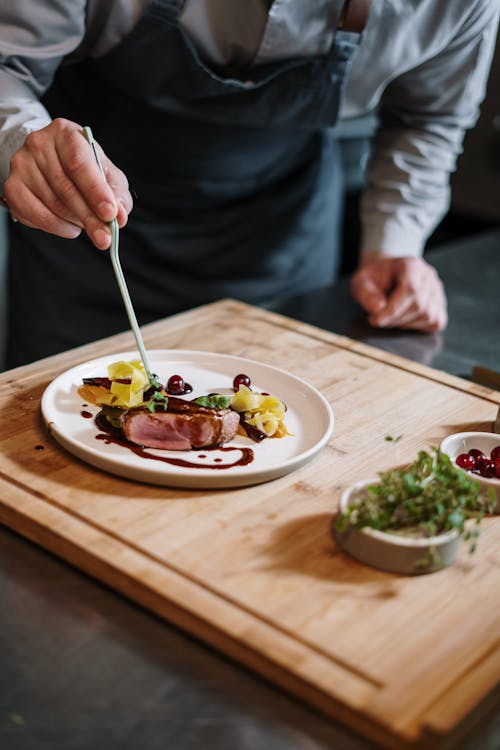 Jack has put his chef's hat on (he had me as his sous-chef) and is determined to win the accolade of STAR BAKER. Watch out Sheree! He views you as his main competition – oh and he also loved your interview. I have been gently steering Jack in the PICNIC direction as I think his flamboyant "can't be bothered reading the recipe" approach to baking sometimes produces interesting results!
After a lot of discussion, we have agreed that rather than baking, Jack would give you all a taste of Africa. For the past few months he has lived on rice, beans and cassava (and goat, but I don't want to think about that). But as Jack has been to many different African lands over the years, we had a talk about all the potential and we looked up recipes and have decided to give you a taste of North Africa (if all goes according to plan there will be a taste of South Africa tomorrow).
Today's recipe is courtesy of VEGETARIAN TIMES and is a tagine with aubergines, peppers, tomatoes, eggs and a great mix of African spices. Here is the recipe we tried to follow:
https://www.vegetariantimes.com/recipes/spicy-eggplant-and-egg-tagine
This is what the end results were supposed to look like. You will have to scroll down to see how Jack's tagine worked out:
Yes…we are spicing up THE GREAT BLOGGERS' BAKE-OFF 2020 SUMMER PICNIC even more.
These are the ingredients we used:
3 medium eggplant, cubed
3 peppers, thinly sliced
4 tomatoes, chopped
1 medium onion, chopped
2 cloves garlic, minced
1/4 cup olive oil
2 Tbs. ras el hanout
1 cup vegetable stock
1 Tbs. harissa, plus more for garnish, optional
6 large eggs
1/2 cup coarsely chopped fresh parsley, for garnish
1/4 cup toasted pine nuts, for garnish
Well…in my role as sous chef, I was tasked with the vegetable preparation (there is no way Jack is getting all the credit for this).
The aubergines needed to be cubed, peppers sliced. tomatoes and onions chopped and the garlic minced. Then we place them inside of a heavy ovenproof casserole dish (the recipe said to use a tagine or a Dutch oven).
Then we added two tablespoon of ras el hanout, some salt and some olive oil. The recipe said to add 1/4 cup of olive oil, but we had no idea how to convert cups to millilitres, so we just gave a few generous splashes.
Then with the lid on we, sorry, Jack placed it into a cold oven. Then I turned the oven on at a temperature of 160°c. Then we set the timer on the oven for two and a half hours. Every 45 minutes, I…we… Jack gave everything a stir. The smells of spice emerging from the oven and wafting through my little nest was making us both very hungry.
After a whopping two and a half hours (in which the sous chef did the dishes and then we cuddled on the sofa, munching baklava, and Jack told me more about his time away), Jack took the casserole dish out of the oven, for the next step.
He mixed in the tablespoon of harissa and seasoned with salt and pepper.
Then Jack formed six wells and dropped an egg into each one (I cracked the eggs). Then he put it back into the oven, without the lid, and baked it for another ten minutes so that the eggs were cooked.
Then Jack garnished the spicy vegetables and eggs with chopped parsley and toasted pine nuts (I am taking credit for chopping the parsley and toasting the pine nuts).
Et voila!!! Jack's North African inspired aubergine and egg tagine…with the assistance of his glamorous sous chef. I am not going to show you a photo, but in case you were worried, I managed to clean all the foodie marks from my casserole dish.
I would have added a wedge of garlic bread, but that is just me…as a teenager I thought it was great to go out with my friends to Frankie & Benny's Restaurant in Wigan, and order cheesy garlic bread and mocktails.
Jack hopes you liked his taste of North Africa. Tomorrow, he has a taste of South Africa for you!