Another post based on an e-mail I sent to Stuart during my job in Notting Hill:
Last night there must have been a terrific storm performing. I heard rain hammering down above my rooms and grand cracks and crashes of thunderous fury. I was so exhausted after the long day of house-keeping that I fell asleep very easily and slept the night through like a baby.
I truly thought I was going to have an easy morning today after all the work I did yesterday. At 5.30am I was sitting up in bed, sipping coffee and thinking I would give myself "just another minute" before I jumped in the shower…when suddenly the door to my bedsit started to open gradually. A little face appeared…it was one of the little children who live upstairs.
The children know they are not allowed to walk into my room without knocking. We are all trying to strongly discourage them from being interested in my little abode at all. Their father has forbidden them and he has told me I must tell them off if they go into my room. I am not very good at shouting at children. I respect that in some cases a parent might have to shout at their children in an effort to make them realize what they are doing is dangerous, or foolish, or wrong. I have never been a parent and I don't know how to shout at a child. I try to reason with them. Sometimes I win, sometimes I don't. I don't think I am winning with this subject. The youngest hates being told off, he hates me trying to reason with him. He will run away. The only way I can catch his attention is by speaking some Mandarin Chinese to him. He is fascinated by this. He has only just turned five, but he is eager for me to teach him as many Chinese expressions as possible.
I often find their toys under my bed or in my bath tub. The lodger thinks it's funny to encourage the children to play little tricks on me. (Afterall, when I clean their rooms I use their toys to create comic scenes…at the moment Darth Vadar is reading a copy of Vogue I found lying around and one of the trolls is sitting in a toy car with a little teddy in front of the car on his back, as if he has been run over.) I found an item from my underwear drawer on one of their teddies about a week ago. I understand their curiosity, but we must instil in them a realization that my rooms are off-limits. Young children rifling through your underwear drawer is so annoying!
Understandably, I was anxious as to what he was doing walking into my bedroom. I was about to tell him off sternly, when he whispered with an urgent tone that there was a large pool of water outside of my door.
I jumped out of bed because I realized the little munchkin was unlikely to risk getting in trouble like this if there was no truth to what he said. He was serious. Just up the steps from my room, sure enough was a large pool of water. I asked him to go and wake his father and tell him what had happened. So, the morning turned out to be quite different to the one scheduled. Every resident in the building has now seen each other in our nightwear. A roofer came…well, you can imagine how the day went hey? We all just got on with it and now peace and order are restored, and the house is still gleaming as I managed to do all the tidying up and cleaning as well as dealing with the leak / flood situation. Another six washes have been through the machine. The normal clothes washing and all the towels we used this morning.
Aaaah…so this leads to yet another proverb for today:
We cannot control the movements of storm clouds hey!
I really feel I need to lay my head on a pillow and have a little nap – starting work in my pyjamas is not ideal is it! I am going to head out to see some friends. We have planned to have a drink at a bar near the river. It will be lovely sitting outside in the sunshine enjoying the cool evening breeze.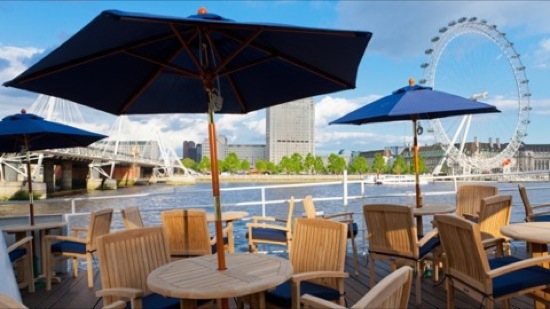 Aaaaaah! I have to say on sunny days like this, England is gorgeous. It is just the rest of the year when skies are grey, and we are blown about with gusty wind and always slightly damp because the rain seems to come at you from all directions. We have to make the most of this sublime sunshine, because we have a problem that as yet we have never learnt to overcome.
We cannot control the movements of storm clouds.