I apologize for the fuzzy quality of the photo below.  I just wanted to share with you my view every morning when I wake up.
This is certainly not the view when I look out of my window.  No, it is a picture that overlooks my bed now.  It is large.  Around 150cm across and 100cm in height.  I have not been able to squeeze all of the picture into the photo.
A while back I realized I did not like looking at empty walls (in my old flat) and so I looked around at pictures to buy, but they were all beyond my budget.  That's when a friend told me I could have something made for a very small cost.  I found a photo I liked and matched with some of the colours in my room. I e-mailed the photographer and asked permission to use it within my own private home.  They said it is fine as long as it was not for commercial use.
One friend printed it onto a kind of canvas which cost around £5.  Then another friend stretched it around a frame made of wood strips ("two by one" as my Dad used to say) which cost around £2. I have fabulous friends.
So for around £7 I had something to look at on my wall.  My sister picked it up from my flat when she went up there recently and I now have it in my bedroom in the little nest.  I like looking at that view, it is much more inspiring than the abstract picture that hung there before.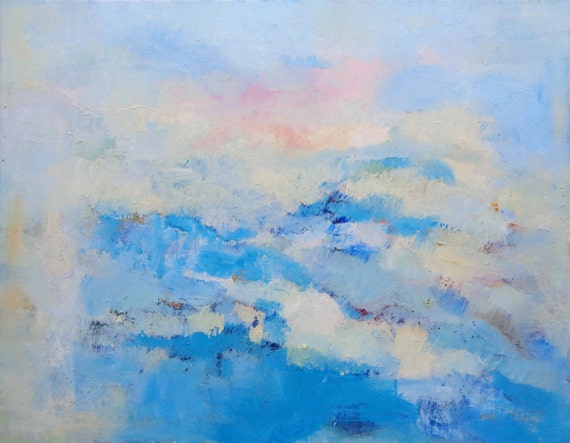 I am certain it will be impossible for you to see, but there is a woman on this side of the lake.  She looks as if she is sitting down and taking in the view.  Whenever friends have seen this picture in my room, they stare at it (for you can see incredible detail in the picture on my wall) and when they see the woman they ask if it is me. She has the same colour hair as I do.
I wake up each morning looking at a rather breathtaking view.  It is a lovely way to start the day. A reminder of what a beautiful and majestic planet I live on.