This was another e-mail to Stuart that I adapted into a post. But I wrote it while working for the family in Notting Hill that I was living with and working for:
Have you ever had one of those days where everything goes wrong?  You seem to have worked hard all day and accomplished precious little.  Despite the best made plans, your efforts are thwarted and your hard work is sabotaged even by the most unlikely of candidates.  "Looks innocent enough", you might think!  Do not be taken in by the cute fluffy outer-shell.  This little one has made himself public enemy number one.
When I attended the interview for my current post, I was told that there were three or hour hours of work to do each day, and occasional child-minding.  They said "occasionally" they might need to ask me to do a "little overtime" and asked me to be flexible as work might vary from day to day.  They asked me to start at 8am.  But I soon realized that they had absolutely no idea of the time it took to complete the tasks they asked for each day. I have actually worked a few ten hours days so far, but they don't seem to realize how much time the tasks they are giving me are taking. I thought that I was managing to get closer to completing my work within the suggested time frame the first two days this week. It seemed that I was roughly managing 7.30am-2pm – and then a lunch break followed by an hour of ironing.  It is essential to escape before every one comes home and wreaks havoc on the house!
But today everything has gone out of the window.  I still have three loads of washing drying outside, the big towels are on the tumble drier and a dark wash in the washing machine.  I am hoping to wash the lodger's linen today and hang it outside while there is still some sunshine and then I really need to do a rag wash – I have a huge bag of used micro-fibre and buffing cloths that I need to put through the washing machine, because I am running out of cleaning cloths.
Nevermind!  It is just going to have to be one of those days.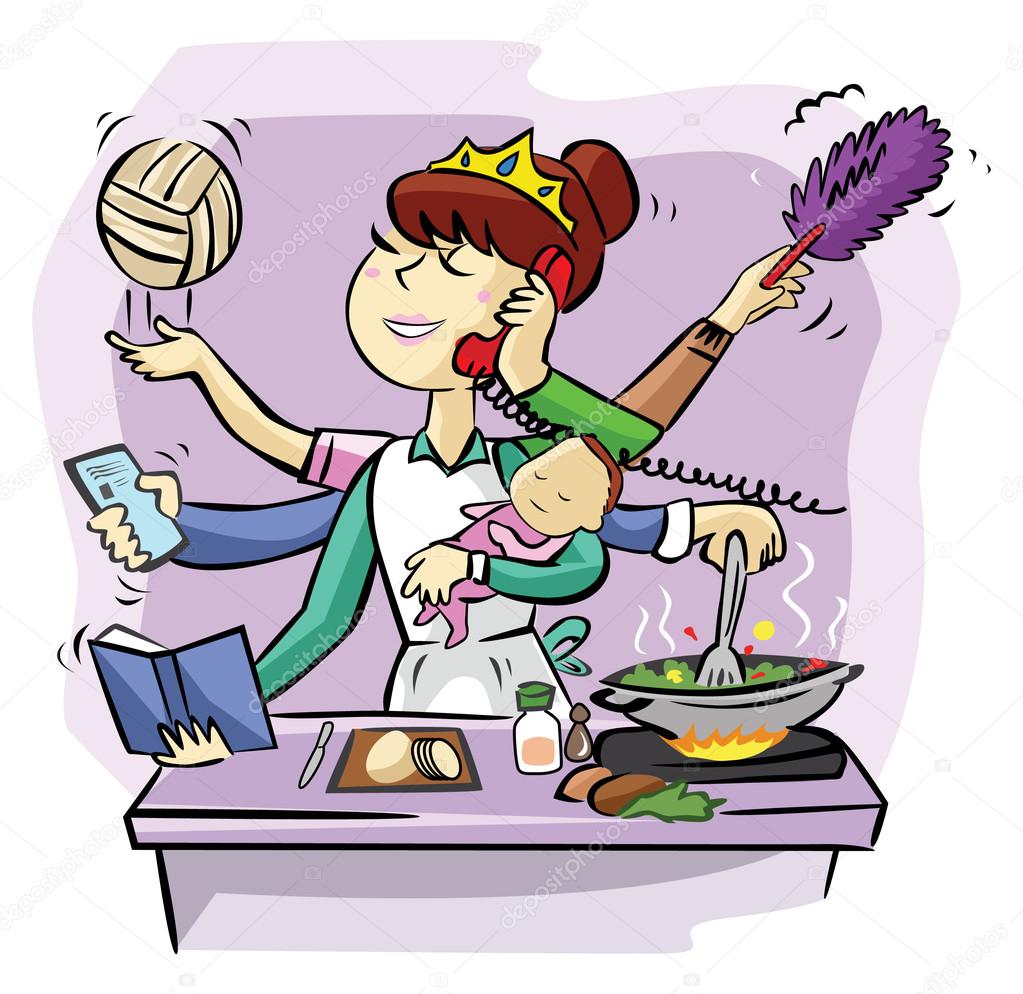 I keep analysing my schedule and trying to work out where I can shave time off my tasks. I am a woman! I should be able to multi-task more effectively! I have sort of a game-plan. I try to have all of the ironing finished by the evening and everything is stacked neatly ready to be delivered first thing in the morning. For example, I might grab one stack and run up stairs to the top floor and deliver and at the same time make the beds and tidy/wipe the bathroom. I grab the laundry bag which seems to be always full and grab the bin liner and go down to the bedroom below. I make the bed, tidy/wipe the bathroom and grab the laundry and the bin liner and head downstairs to the utility room to start off the washing. Then I can head back up and ideally the family will be on their way out so that I can start cleaning up the kitchen.  After all of that I can start the thorough clean of a the entire floor of the house.  Five floors of the house, one floor each day.  Now in principle that sounds straightforward doesn't it?
But life is unpredictable is it not!!!  Proverb for the day:
We cannot control the movements of kamikaze squirrels.
This morning the delay was as follows.  The nanny leaves the boys clothes out each evening so that everything is ready for the following morning.
However, today Dad was very concerned about his youngest, "It is so hot today the little one will be too warm in a long-sleeved school shirt, so could you find a short-sleeved school T-shirt for one of the boys?"  Well, I ran from the ground floor up to the second floor.  No other T-shirts at all on his room.  I run back down to the ground floor to deliver the message that he does not have any other shirts in his room.  I was asked to go back up to the second floor to check if there were any in his brother's room?  I pointed out that if his brother has short-sleeved t-shirts they were unlikely to fit the little one?  Four years age gap between the boys. They wanted to give it a try.  So, I ran up to the second floor again.  His brother had three T-shirts but they are all long-sleeved.  I ran back downstairs to tell them.  They asked me  if there were any shirts anywhere else? Well, I guessed the other shirts must be in the laundry, even though I washed everything in all the laundry baskets and ironed everything I washed yesterday (three loads yesterday).  I ran downstairs to check.  There were five dirty school T-shirts in the laundry baskets.  Why had the two boys been through five school shirts in just one day? – I have no idea.  There were also three unlabelled T-shirts which were clean, but all  long-sleeved.
By now I had wasted 20 minutes running up and down stairs. The poor little one still had to wear a long-sleeved T-shirt for school.  Nothing has been accomplished, except I could possibly claim I have already burnt off all of the calories from my breakfast.
I headed back up to the third floor to start bed-making.  Only I heard my name being called.  I ran back down to the ground floor. They wanted to tell me that they were going to keep the front windows open to create a through draft.  Great idea!  I ran back upstairs.  Then I heard my name again.  The shopping had arrived.  Somehow, it has suddenly become my job to deal with the shopping, even though they say they do it themselves.  This is the fifth week in a row I have done it.  I am pretty quick at organizing shopping – it is one of "my things". That's fine, if they need me to do it, I will do it. So, I unpacked the shopping.  Only, it wouldn't all fit in the fridge, so I had to carry a lot downstairs to the spare fridge in the utility room.
I was looking at my watch and realizing that it was over 50 minutes since I started work. I still had not made my first bed yet.  I headed back up to the upper floors. I made the beds, I wiped bathrooms and brought the laundry and the rubbish down.  I put on the first wash I headed up to the kitchen.  I was a whole hour behind schedule by now.  I would like to have cleared the breakfast and wiped the sides and emptied the rubbish already – but suddenly the nanny arrived.  Five minutes later, the lady of the house came home from yoga.  Yoga just happens to be the same time as the morning school run.  So while the rest of us are trying to bribe the children to put their uniforms on, finish their breakfast and make their was to school…she is meditating and stretching.
I was now working around them while they sipped coffee and discussed the arrangements planned for the day.  They are both super lovely and I had a little chatter with them both.  But there is always a little "oh could you just do this or just do that" to slow me down and it normally involves running up and down stairs in the process.  I decided there is no way I could just wait around to be able to do the kitchen properly, I would have to do that after they had gone.  Instead, I decided to start with the cleaning upstairs…
I was cleaning the children's rooms today.  Of course, before I can really start cleaning, there is always a lot of tidying to do.  Toys, clothing items, books…they seem to be everywhere except they ought to be.  I might be imaging it, but it sometimes seems as if the boys go into their room and open up all the cupboards and drawers, and then pull everything out and throw their belongings up into the air to see where they will land.  I was still tidying and had not started cleaning their rooms, when I heard my name again.
I went down to the first floor master bedroom where the voice was coming from.  I could not believe my eyes! Yesterday, I had done a thorough clean of this room.  An hour earlier I had spent fifteen minutes making the bed and tidying the clothes that were left on the floor.  This time I really was not imagining it.  Somebody, (and it was looking very much like that somebody was the lady of the house) really had opened all of the closet doors and drawers and pulled out all of her clothes and shoes and bags and thrown them on the floor.
Ay ay ay!!! My parents forbade us from using expletives…but the thought that ran through my mind was not a happy one.  She was looking for some shoes.  She has possibly sixty pairs I realized last week when I cleaned the inside of her closet and re-arranged everything at her request.  I put the normal looking sensible shoes in the main shelves and the weird shoes (you know they types someone might want to wear for a fancy-dress party) on the top shelves of the closet.  She described to me the pair of shoes she wanted to wear, while I tried to hide the horrified dismay on my face.  I asked her if she meant the spice girls shoes.  She didn't know what I meant.
Well, tell me, if someone asked you to find shoes that are red, blue and white, with sequins and with a platform wedge…how would you describe them?  When I originally saw these shoes, I thought they were hideous, but I concluded they must be part of a "Ginger Spice" fancy dress costume.  Apparently not, I discovered today that they are the latest creation of some sensational designer – of course she would know about these things since she works in the fashion industry.  After I had found the shoes, I had to put everything back into the drawers and wardrobes.  Then back upstairs to clean the rooms on the third floor.  I still had not cleaned the kitchen after breakfast.  All the washing needed to be sorted out.  I was not sure when, or if, today was ever going to end!
Well….this is life…this is house-keeping!!!!  I am telling myself to get on with it and deal with things calmly and not get flustered but see the funny side of things.
The "funny side of things"…and now we come back to the squirrel…he looked innocent enough didn't he?
…I had just finished for the day – everything was looking immaculate and I turned the lights off.  I was heading downstairs to take a quick shower before I went out, when…..CRASH!!!!….I turned around and my jaw dropped.  A kamikaze squirrel!!!!!  It had just done some kind of "Fosbury flop" and a triple somersault.  As it had done so, it knocked off several plant pots from the wall.  Now there was broken pottery and soil all over the patio and some of the plants had come right out of the pots.  The squirrel (who must have had some kind of a death wish) was outside the window staring in at me!!!  So, I had to fetch the broom and start sweeping up the soil and re-arranging the plant pots.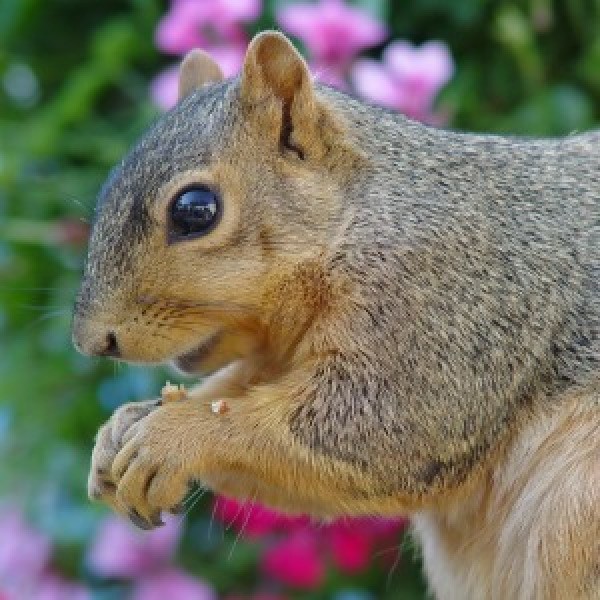 This is life! – things will crop up won't they!!!  We cannot control the movements of kamikaze squirrels.
I am going to head out for a walk as soon as I have finished.  I am going to take my sling-shot, or perhaps my bow-and-arrow and try to find that squirrel.  My aunt Judy would love a new fur hat!
You know I am joking right!