Have you ever faced REJECTION from those you looked up to and admired? How did you overcome the feelings that stirred in you?
Beckie, the creator of Beckie's Mental Mess, hosts a series entitled "WORKING ON US". The theme for this week's "WORKING ON US" is "REJECTION AND OVERCOMING REJECTION".
November 6, 2019 "Working on Us" Week #22 Mental Health Blogging Community-Mental Health Series, Topic: Rejection and Overcoming Rejection
Yesterday I published my introduction to a multiple part response that I am submitting to Beckie. This post is going to examine in more detail the challenges I faced which developed into my one and only taste of despair. They all center around that word: REJECTION.
MY CAREER
When I was sixteen, I stepped onto a construction site as a volunteer for the first time. That day changed my life. I REJECTED the opportunities my teachers were waving in front of me. I rejected the goals that the academic side of my family kept pushing. I rejected the world's idea of success. From that moment on, my chosen career was working as an unpaid volunteer for charities.
In addition to working as a volunteer (for between 20-40 hours each week), I would work in a paid job (between 10-20 hours a week) to cover my living costs. People have often asked me how I managed to live on so little? I managed. I could share hundreds of great tips on that theme…but that is an altogether different subject. There are many hundreds of thousands who do exactly the same as I have – limiting their income so they can give their time and skills as volunteers.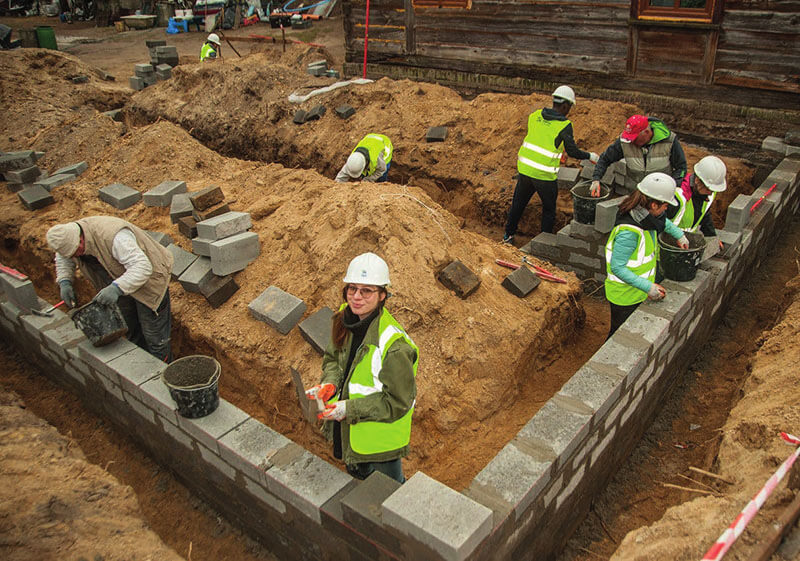 While I was volunteering I met hundreds of other amazing volunteers, including those who were full-time international volunteers. They travelled the world, being sent to areas of need. Some of them had been in that role for decades. They had not been paid any wages for all those years. All they had was basic accommodation. Meals were provided for them and their travel was paid for. They had the biggest smiles I had ever seen. They radiated joy.
I was in awe. I applied every single year to become an international volunteer myself. I knew the criteria was tough. The living conditions are tough in many assignments. The physical, emotional and mental demands are intense. Year after year my applications were REJECTED.
Then after over ten years of REJECTED applications from me…suddenly I was invited to serve as a full-time international volunteer. For a time, I was assigned to help train a large team of part-time volunteers and to work in an infirmary for patients who had terminal illness. The assignment was special to me. But we experienced a very intense period in the infirmary. To give you an idea of how tough our assignment could be at times, I wrote about one very demanding day that stands out in my memory:
Our manager left during the most intense period we faced. We had a new manager. One who had never worked in healthcare, but he was a good organizer. Our former manager was a people person. He was always supportive and looked after each volunteer making sure there was a warm family like spirit. Our new manager kept away from the wards. He was in an office doing paperwork all of the time. One of our new manager's first decisions was to get himself an assistant. The assistant was a young man I had trained (yes, one of those who didn't turn up when we needed him most).
The assistant had ideas. His ideas were to change the way everything ran. One of these was the rota. We had always had to do shift work. Our former manager designed a rota than meant that we had chance to recover from night shifts before going back to days. So we did four ten hour night shifts in a row…and then had three days off before we were back on five week day shifts 8am-5pm the following week. The rota had worked really well for years.
This new assistant couldn't his head round the rota and how to use spreadsheets. I was asked to show him, but eventually he decided to come up with a simpler arrangement. You just did a whole week of your shift and weekends could be covered by part-time volunteers. That meant that if you were on night shifts, you had to do five week day nights, 50 hours and then were back on Monday on early shifts 5:30am – 2.30pm. If you were on night shifts, most of your time you were trying to assist Alzheimer's patients who were normally most active at night.
We were all exhausted after the intense few months we had been through. We had just lost one of our teammates to cancer We were all showing signs of burn-out. Understandably some of the girls complained about the new rota. His reaction was to say we had an attitude problem and this was a mutiny. I remember the words, "if you don't like it you can leave, there are thousands of women who want to be here in your place." It was the worst behaviour I had ever seen. I was shocked. Later the assistant took a six month sabbatical due to mental illness. But he had already complained about our entire department, labelling us "difficult whingers", "uncooperative and inflexible" and "disrespectful and unwilling to accept new suggestions".
Incidentally, by this point Jack had moved into the flat I lived in. Sometimes he would catch me crying with our flatmate Ella. He was living with me during the most stressful period of my career. I wish he hadn't seen me when I was so tired and so stressed. He probably just thought I was over-emotional. I should ask him if he remembers seeing me crying with Ella.
I was working between 40-60 hours a week and had a supervisor who thought our entire team were just out to "get him". He seemed to want to push and push and push, asking us to do all sorts of strange tasks. He seemed to just want us to say "Yes sir!" I had never known another supervisor amongst all the volunteers I worked in who could make life so miserable. He seemed to REJECT our whole team. After all of our devotion to our patients, our new manager and his assistant seemed to despise us and have no empathy to the challenges we faced. Remember, none of us were being paid any wages!
However…this is not the challenge that broke me. This was just the background to a situation which was initially part of my personal life that became a nightmare to me. Some of my friends later said that all of us girls who had worked overtime for years were showing symptoms of burn-out. Apparently, everyone thought I was the strongest (emotionally) out of the team and seemed carry on working when others said they couldn't cope anymore. I didn't complain you see. It's never been my way. Maybe that caused problems for me.
(This was supposed to be a three-part series, but this post would have been far too long, so I have split it into two parts. I will publish the second part later today.)