I have decided not to work on a response to Rory's Oh No Way/Oh So Way questions this week, only because I don't think my post would be anywhere near as interesting as those from the other bloggers who have answered those questions.
My there are certainly some bloggers out there who have stories! (Whether or not we will hear more shall wait to be seen I suppose.) After reading the posts from other bloggers, I have realized that I clearly have lived a very quiet and calm life.
There was one question that almost everyone seemed to have an identical response to:
Rory asked if bloggers had
WORN CROCS
These are some of the answers I have seen from other bloggers:
Worn Crocs oh no way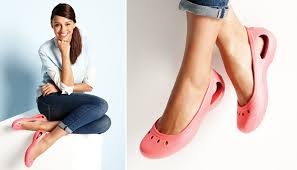 Worn Crocs — Oh no ***** way!
Worn Crocs – So No Way – ewwwww, I mean seriously? ewwwww
Worn Crocs. NO WAY.  Too ***** ugly for me.
No Way ~ yuck! Ugly! They don't even look comfortable. I'll go barefoot or wear my flip flops.
Worn Crocs No way. Why in Hades would anyone wear a crocodile? Are they insane? Crocs have huge teeth and eat everything!
____________
Now…this post is in no way me taking offence at what other bloggers have posted (I am a happy little flower who does not get upset by other bloggers 🙂 )
However…I am going to admit I started to wonder – am I the only person who buys, wears and loves Crocs???
Well, no, I know am not because all of the sixty members of our house-keeping team wore Crocs. They were the best work shoes for us. So light on your feet and comfortable…and they can get wet. That is the main reason why we chose them, we were cleaning wet rooms and bathrooms and kitchen areas with lots of water splashing around.
We were all aged between 20-40 years old and we were concerned with the shape of the Crocs we wore. I didn't see many pairs of those big bulbous Crocs. We bought the sleeker, more slender styles and we rocked them!
The other place I wear Crocs is on the beach (when the sand is too hot to walk on). In the past the sand has ruined sandals I have worn and if you wear proper shoes you are emptying the sand out for the next six months. But a pair of Crocs they are so easy to clean and of course a very light weight addition to my beach kit.
Can't really talk about Crocs so much without spinning everybody's favourite Crocodile tune! Crocs are so misunderstood!!!