I have been publishing posts about events that occurred following the conversation my ex-flatmate (we are calling him Jack) and I had over a cup of tea. Now…I have mentioned once or twice that I have a confession to share, because I did something really stupid. I am working up to sharing with you how I ended up guilty of this completely daft and damaging decision.
Do you remember in the last post I left you on this cliff-hanger? Well, that kiss was not the confession, the stupid thing I have been building up to telling you about. However, it was also a stupid thing to do, and it had consequences!
I am still not sure why I did that.  I think I had wanted to do that to Jack for a long time…only I could not possibly while living in a pressure cooker of a situation. When Brian was so kind and empathetic, I felt a cosy warm feeling towards him, and a sense of relief that I was talking to someone who had a fresh perspective on the situation. After the cocktail I had, my head was a bit fuzzy and Brian suddenly became very handsome in my eyes…and with a swell of gratitude in my heart, I planted a smacker right on his mouth to his surprise. In the moment it was exhilarating and delicious. But I immediately knew I was kissing the wrong man. I apologised to Brian who was very polite about it.
Do you also remember Brian's suggestion that I take a bit more control of the situation I was finding challenging? (The gossip and the false rumours about my flatmate Jack and I.) Brian had recommended that I "fight fire with fire".
Funny enough, I should have known this was a bad idea. Neither my wonderful parents not any of my wise aunts and uncles or mature friends had ever taught me the life lesson to equip me to survive as a woman in this world: "fight fire with fire". Oh no! Because it turns out this is a very silly idea indeed.
Brian had posted a selfie with me alongside him, onto his Instagram account. He had taken the photo very shortly after I had unburdened myself to him and then…in my moment of madness…kissed him.
I left had Brian to go and meet my friends with a sense of relief, after being able to get so much off my chest to someone who was not close to Jack. I thought nothing more of that photo.
I had a great time with my friends who lived on the opposite side of London and were not interested in social media. They were brilliant company for me. However, they knew I was living with Jack and they had all worked with him. They had all met him years before on projects and they thought he was a fun character who cared a lot about working with charities. They liked him I am sure. One of their questions for me was, "are you engaged to Jack yet?" Ay ay ay! Very quickly they detected I didn't not really want to talk about Jack.
I had a wonderful afternoon. I was heading back to my flat when I thought I would check my mobile phone. I am one of those people who have a phone somewhere in the bottom of their handbag and check it three or four times a day when it is polite and appropriate. Jack on the other hand is someone who seems to be constantly on his phone.
My phone showed several text messages waiting for me. Suzie, Marta and Ella and other friends had all sent me messages asking me what was going on. Ella's message simply said:
"JACK IS IN A FOUL MOOD. HOPE YOU ARE READY FOR THIS."
I think I had already guessed what had happened. And I knew already I had to be ready to take on board responsibility for agreeing to let Brian post that photo. I used the travelling time to work out what I was going to say to my friends, and more importantly, what I was going to say to Jack.
What on earth was Jack going to say when he saw me? Would he return to his cold hostility? Well he was hardly going to roll out the red carpet and give me a royal welcome! When I arrived back at the flat, I felt sick with dread.
Jack…was not home. Phew!
Ella was not home either, nor Dean. In fact the flat was quite empty. I jumped in the shower and started to get ready. I was going out. I was quite excited actually. I was attending an award show. It would take me an hour to do something satisfactory with my hair. I hate styling my hair. But I love these events. You do have to make the effort! My dress was all picked out…have I ever mentioned how much I love parties? (Always a party to go to after a show.)
Now…I am going to have to fast-forward and skip all the details of my hair styling and all my other preparations for the show. The venue was only about a mile and a half from there we lived. I travelled with a married couple who lived nearby, they had already told me they were going to be heading straight to the airport from the show as he had an assignment abroad.
After arriving, I spent time meeting and greeting. All was going great until I bumped into Damian. He started to laugh immediately asking me how many men I was stringing along. He taunted me that the main reason I was here was to see Jack on stage. Well, Jack had kept that secret from me. He had not mentioned that he would be at the awards show. Although, Jack seemed to be involved with almost everything.
Do you know what it is like to watch someone you live with performing on stage with other popular entertainers? I loved seeing Jack on stage. He is a natural entertainer. I did enjoy seeing him.
I have been on stage myself, normally you can hardly make out anyone in the audience. I doubted Jack would ever have been able to pick me out. But there was a moment, I may have been imagining it, but he seemed to be looking in my direction and he stopped. He was silent for a few seconds. I felt uncomfortable. Then…he carried on again and all was well.
After the awards had been given out and all the entertainment had ended, the party atmosphere kicked off even more. But that is when I saw Jack, and undoubtedly, he had seen me this time. All week he had been absolutely lovely to me, but not now. He was glaring at me. He looked angry.
I felt now was the time for courage, so I took a few steps towards him. But as I approached, he seemed to deliberately turn his back to me. I decided it was not worth making an issue of what he did. I needed to speak with Jack, but not in the middle of hundreds of onlookers. I decided to just carry on with enjoying the company of others at the show.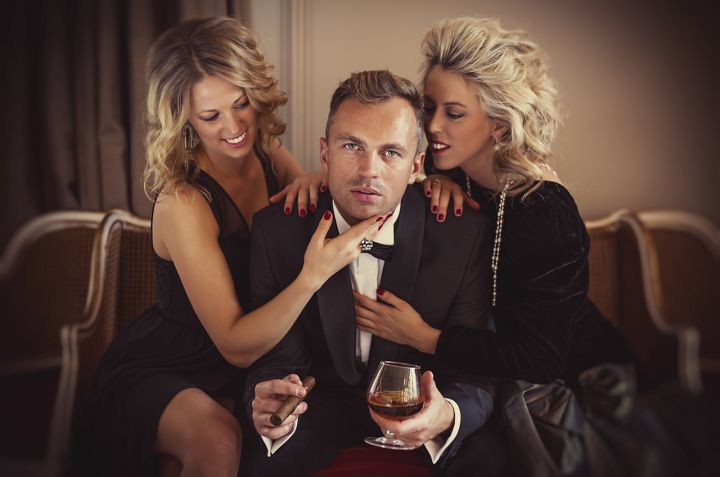 But Jack seemed to always be near, I could tell out of the corner of my eye, and several times I turned to see scenes a bit like this one (no this is not Jack). Now that was not at all like Jack. He was not at all relaxed with women making a fuss of him. He was concerned about his reputation and he felt a sense of pride at being a role-model for young people to look up to. In addition, he has had a couple of bad experiences with scary female fans he had to take legal action against, so he normally played very safe with women. Not that night. Oh Jack!
I did feel some pain.  It dampened my party spirit very much, which was annoying because I put so much effort into styling my hair. After enduring half an hour of this, I felt I wanted to slink off home and avoid anymore of this cruel game with Jack. There were no taxis outside the venue. I could catch the bus. The bus-stop was just across the road.  On reaching the bus-stop and finding the next bus was due to arrive in 14 minutes time, I thought to myself "I could walk home in twenty minutes", which was a gross miscalculation, it would take at least thirty minutes to walk home in stilettos. But I thought I could do with a walk in the crisp night air.
I set off criss-crossing through the side streets towards our flat. Then I started to feel a few drops on my forehead. Within moments the rain was teaming down. I had a brolly. I don't go anywhere without a brolly (truly English to the bone) and I had a little tiny fold up brolly which did rather a poor job of keeping me dry.
Whose idea was it to walk home?
By the time I arrived back at the flat I was soaked. Dress, shoes, hair dripping wet. I don't mind rain normally, I am a secret puddle jumper, I adore Gene Kelly's moment of celebration in "Singin' In The Rain"…but that was not a happy walk home in the rain. It was a walk during which I felt a bit sorry for myself and had tears milling with rain drops about the possibility of more hostility from Jack.
As I was approaching the security gates outside our flats, they started to open slowly and a car drove in ahead of me. Jack's car! I held back. I didn't want him to see me. But that meant I had the perfect view of the passenger side of the car as the door opened and…a young woman climbed out of Jack's car. Oh my goodness!…how awkward!
Possibilities raced through my mind.  If Jack took her up to the flat…I couldn't walk in right behind them. I was cold, soaked and not even sure how I felt about what was happening in front of my eyes. I had to get into our flat before they did, hopefully before Jack saw me.
I started running through puddles towards the flat…and realized Jack's eyes were upon me. I ran up the stairs, so I did not have to hang around in the foyer waiting for the lift (elevator).  My first thought was to grab some water and snacks to take into my room so that once I was in my room I did not have to leave.  It only took me a few seconds…but I was not quick enough.  As I left the kitchen with my supplies, the front door opened and after a few strides, Jack was blocking my way to my room.
"Mel…are you alright?"
"Yeah, I just got caught out by the rain."
I must have looked a wreck.  Jack looked at me and before he realized what he had said, out came the words, "Do you need help…?"
What Jack could possibly have thought I needed help with, we will never know. But I could tell there was a tenderness there and I wanted to make sure it lingered. I said I was fine, and I would take my dress to the dry cleaners the next day. I was so tired, I was not sure what to say to Jack although I knew there was a lot I ought to say.
"Jack, you were brilliant tonight. I mean you always are, but I thought you were brilliant. I felt so proud of you."
If I had not been absolutely dripping wet, I think I would have hugged Jack.  But it mattered not, I think Jack knew I was sincere.
I said to Jack that I ought to go and change and get some sleep because it had been such a busy day. Now…I would love this poignant moment to have been enough to fix the damage that had been brewing all day, but it was not enough. For a moment later, Jack's face seemed to change as he remembered something.
"Yes, you have had a busy day haven't you!" he delivered this statement with obvious derision.
"Please Jack, I really want to talk to you, but can we do this tomorrow, please?"
Jack agreed. I was soaked and bedraggled, I think he realized I really did need to just be allowed to go and sort myself out.
"We'll talk tomorrow Mel."
I was left to sleep and dream that Jack and I had found a way to fix things.
Just in case you want to catch up with any of the posts connected with Jack and I, here they are:
https://onedailyprompt.wordpress.com/2018/09/08/your-daily-word-prompt-alongside-september-8th-2018/
https://swimmersweek.wordpress.com/2018/09/08/woman/
https://wordofthedaychallenge.wordpress.com/2018/09/08/exhilarating/
https://fivedotoh.com/2018/09/08/fowc-with-fandango-royal/