When I saw Jim's SONG-LYRIC-SUNDAY post for today was entitled "Mary Poppins", my mind started down another very pleasant course. Yet another Julie Andrews classic came to mind.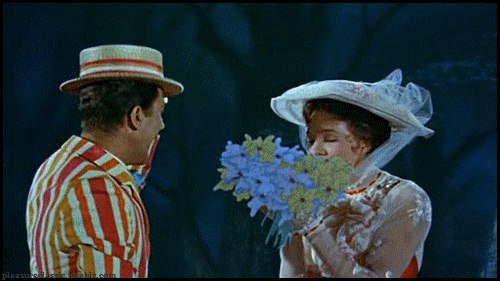 Jim Adams, aka Newepicauthor, the creator of A Unique Title For Me, is hosting SONG-LYRIC-SUNDAY and this week he has chosen the theme: MARIA/MARIE/MARY
Jack really cheered me up this morning – I think he is my Burt. He always has something to lift my spirits and likes to sing quite a lot of what goes on his mind. He makes my life feel like the musical it should be!
When Jack holds my hand…my heart starts beating like a big brass band!
Ain't it a glorious day
Right as a mornin' in May
I feel like I could fly
Have you ever seen the grass so green
Or a bluer sky?
Oh, it's a jolly holiday with Mary
Mary makes your heart so light
When the day is gray and ordinary
Mary makes the sun shine bright
Oh, happiness is bloomin' all around her
The daffodils are smilin' at the dove
When Mary holds your hand, you feel so grand
Your heart starts beatin' like a big brass band
It's a jolly holiday with Mary
No wonder that it's Mary that we love
Oh, it's a jolly holiday with Mary
Mary makes your heart so light
When the day is gray and ordinary
Mary makes the sun shine bright
Oh, happiness is bloomin' all around her
The daffodils are smilin' at the dove
When Mary holds your hand, you feel so grand
Your heart starts beatin' like a big brass band
It's a jolly holiday with Mary
No wonder that it's Mary that we love
Oh, it's a jolly holiday with you, Bert
Gentlemen like you are few
Though you're just a diamond in the rough, Bert
Underneath, your blood is blue
You'd never think of pressing your advantage
Forbearance is the hallmark of your creed
A lady needn't fear when you are near
Your sweet gentility is crystal clear
Oh, it's a jolly holiday with you, Bert
A jolly, jolly holiday with you
Written By: Robert B. Sherman and Richard M. Sherman