Jim Adams, aka Newepicauthor, the creator of A Unique Title For Me, is hosting SONG-LYRIC-SUNDAY and this week he has chosen the theme: DUETS
I have am going to start my Sunday on a lively note. There are many duets out there. Lots of them are beautiful ballads, some of them are more on the fun side of scale. I feel in need of some fun. There have been a lot of emotional challenges at work and in our own life. I might write a bit more about it at a later date. But for the moment, I need to switch off a bit and relax. I am spending the day with some wonderful friends, who I am sure, are just the company I need when there is heartbreak all around me.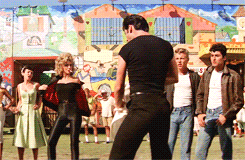 John Travolta and Olivia Newton-John (aka Danny and Sandy) provide one of the most iconic duets of musical history, in the form of "You're The One That I Want". Such fun! Young love! I do love that sentiment "You better shape up!" It's so no nonsense, "don't mess me around!" – isn't it!
I love my Jack, but when he first made contact with me again in September and not long after that made his move…I do believe my words were not dissimilar to the lyrics in this song. Especially the lines "You better prove, That my faith is justified". Well, Jack is doing great so far! He so thinks he is John Travolta when he hits the dance floor!
I got chills
They're multiplying
And I'm losing control
'Cause the power you're supplying
It's electrifying!
You better shape up
'Cause I need a man
And my heart is set on you
You better shape up
You better understand
To my heart I must be true
Nothing left
Nothing left for me to do
You're the one that I want
Oo-oo-oo, honey
The one that I want
Oo-oo-oo, honey
The one that I want
Oo-oo-oo, the one I need
Oh, yes, indeed
If you're filled
With affection
You're too shy to convey
Meditate in my direction
Feel your way
I better shape up
'Cause you need a man
I need a man
Who can keep me satisfied
I better shape up
If I'm gonna prove
You better prove
That my faith is justified
Are you sure?
Yes I'm sure down deep inside
[3x]
You're the one that I want
Oo-oo-oo, honey
The one that I want
Oo-oo-oo, honey
The one that I want
Oo-oo-oo, the one I need
Oh, yes, indeed
Written By: John Farrar