Nick and Anna are back at Inkpen and with them is Anna's sister Natalia. Natalia has been telling the Graingers how her artwork will be featured on the new Mildew album and how grateful she is to Annabelle for sharing her artwork with them.
These are the previous parts of Annabelle's story:
On Monday morning, the night after they had met Natalia, Robin was holding Annabelle in his arms and talking into her ear.
"I thought you said it wasn't a good idea to try matchmaking Chris with anyone!" cried Annabelle.
Robin gently pushed Annabelle onto her back and pinned her with his elbows. Smiling warmly, he teased her, "I said that it was obvious that Chris and Harriette were not attracted to each other. I told you not to ask Chris about her, but you still went ahead and did so, didn't you!"
Annabelle objected, "I think Harriette is lovely. If Chris had chance to get to know her better, you never know what might happen. Besides, you told me off yesterday, and now you want me to ask Chris what he thinks of Natalia?"
"You don't need to ask him Belle. Just looking at him, it's bloody obvious what he thinks of her."
Annabelle looked anxious when she asked, "Do you think she likes him?"
"Well she was smiling a lot. But women are complicated, crazy, cranky and cunning…so, I don't know is the answer to that question."
Annabelle whined, "Hey, who are you calling cranky?"
Robin grinned and kissed his wife, "Belle, it might be helpful to Chris if you said something about the obvious spark between the two of them."
"Do you mean you want me to speak to Natalia about Chris?"
"No, that might embarrass her. They've only just met. I mean you should maybe have a word with Chris so he knows you would be happy for him if he likes someone else."
"What do you mean?" asked Annabelle.
"You know what I mean."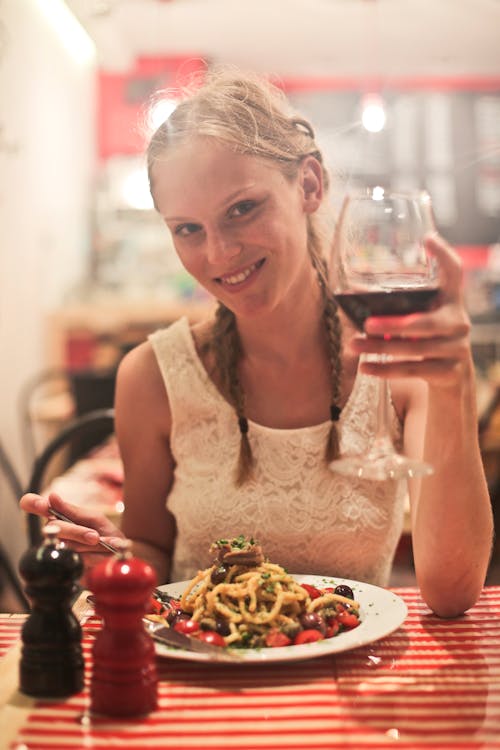 "Chris doesn't need my approval. Besides he has already been involved with other women."
Robin shook is head, "Do you know something I don't know?"
"He told me he went out with a waitress who he met in Winchester. He thought you might remember her."
"I remember her. Chris told me they had one date and that neither of them have ever been in touch with each other since."
Annabelle looked awkward, "Well, it was more than a date. He went back to her place."
Robin laughed, "It was just a once off Belle. You are such an innocent sometimes. Neither of them wanted to see each other afterwards, which means whatever happened back at her place was not as fun as it should have been. Besides that was over a year ago."
"But what does that have to do with me? I am not responsible for his love life."
Robin stared into Annabelle's eyes, "It would be kind Belle, to let Chris know that seeing him happy with someone else would be great."
Annabelle looked slightly distressed, "But we don't even know Natalia. She's a complete stranger! She might not be right for Chris."
Robin laughed, "I see. It's one thing putting her in touch with Dean and sending her off to work with him, but she's not good enough for Chris? Is that it?"
"Please don't joke. Chris is very special Robin."
"I think Chris is great Belle. He's been a fantastic friend to both of us. But you know as well as I do that he would like someone special in his life. That might not be Natalia, but it might be. There's definitely a spark between them."
"I think it's too soon to say that Robin. We should wait and see. Chris doesn't want to rush into something he would regret. What if it went wrong? Your parents and Anna might be angry."
"We're only here for a few more days. And we'll be busy on New Year's Eve and New year's Day. Then he'll be thousands of miles away from her. He should take the chance to get to know her while he is here."
"Chris can do what he wants Robin. We shouldn't get involved."
Robin nuzzled his face against Annabelle's, "I agree, we should leave them to it. All I am asking you to do is give Chris the green light that you are alright with that."
In response, Annabelle let out a sigh of frustration.
***
Chris had woke early that morning. He had offered to take Rufus for a walk and had headed out towards the woods. It was a cold crisp morning. Every leaf and blade of grass was covered with a fur-like layer of white frost. The sky above was serene and blue. Chris filled his lungs with the chilled air.
As he was returning to the house Rufus ran ahead barking loudly. Nick appeared with one of the horses. He was letting the horses out of the stables and into the meadow beside the house.
"Back to work already?" asked Chris.
"It'll be quiet this week. Nothing happening. Just the animals and checking everything is working. This time next week we have tree engineers coming in. There'll be another shoot too. They always host a New Year shoot."
"A shoot? What, do you mean hunting?"
Nick nodded, "Pheasants mainly."
"Right. Rob showed me the gun cupboard."
Nick spluttered a chesty cough, "Caught a bloody cold when I was back home."
"Sorry pal."
Nick looked thoughtful, "I'm just going to take the other horse out. If you don't mind making sure Rufus is back inside, you can pop over for a coffee."
Surprised at the invitation, Chris hesitated, "Yeah, sure. Ten minutes?"
"Fifteen mate. I'll go and tell Anna."
Chris hurried Rufus back towards the house. Once he had towel dried Rufus and taken off his muddy boots, he ran back up to the room he had been sleeping in. Chris stared at himself in the mirror. He hadn't shaved all week. He noticed his hair and eyebrows both looked shabby. He ran his fingers through his hair.
Chris doused himself with eau de cologne, before changing his shirt. He put on the Ralph Lauren shirt that Annabelle had given him two years earlier. His lucky shirt. Chris was staring into the mirror, aware of his reflection, but he was seeing Annabelle.
The first time he saw her. Passing her at the grocery store. Driving passed her when she was walking along the sidewalk. Joining the rambling group so he could see more of her. Inviting her out for a drink. Being turned town for the first of many times. The look on her face that night he had tried to kiss her while she wanted to read Robin's letter. The look on her face five months later when she had held a sprig of mistletoe over him and kissed him.
The phone call with his sister Gina was vivid in his memory. Gina had been telling Chris to let go of Annabelle for a long time. Natalia was very pretty. But Chris felt a little nausea. What would Annabelle think? But nothing had happened. He had Natalia had ended up talking the night before. That was all. Then Chris realized that she might not even be there. It might be just Nick and Anna. After checking the time on his phone, he raced back down the stairs and out through the side entrance towards the cottage that Nick and Anna lived in.
Anna opened the door and invited Chris in. She pointed the way into their sitting room, telling Chris she would be back shortly with some coffee.
Natalia was sitting on a sofa. She smiled as Chris entered, "Hello again."
"Hi," replied Chris.
"Nick said it's freezing cold outside. You've been out walking already?"
"Yeah, yeah it's really cold. It's a beautiful day though."
Natalia's warm smile grew even wider, "I love it here. It's paradise compared to the part of Manchester I live in. We're going for a walk up in Penwood later. One of Nick's friends lives there."
"I don't think I know Penwood," Chris confessed.
"Didn't you go up to Highclere Castle when you were over here for the wedding?" asked Nick bringing in a tray from the kitchen loaded with mugs and and a jug of milk. Anna was right behind him with a coffee pot.
Recollecting the trip, Chris asked, "Is that Penwood?"
"It's not far. It's just a short walk from Penwood to Highclere," replied Nick.
Natalia took the mug of coffee that Nick was holding out to her, "Oh my God Anna, I am so glad you have normal mugs. I was scared I was going to snap the handle of that dainty china cup Lady G presented me with yesterday."
That was it. The moment Chris heard Natalia's laughter, he just knew.
____________________
You can read the next part of Annabelle's story here:
Kim, the creator of Writer Side of Life has given us some great writing prompts. Several of them appealed to me, but I have only chosen one to work on for now, because I am still playing catch up with blogging, after my trip to Australia:
I chose a prompt under the ROMANCE section: 3. Who is she waiting for?