Being back at Inkpen brings back many memories for Annabelle. Will those sad memories spoil he time with Robin's family?
These are the previous parts in Annabelle's story:
Christmas Eve was a busy day for the Grainger household. With Nick and Annabe away, it was left to Stephen to take care of the horses, chickens and Rufus. Fiona in the meantime, recruited all of her guests to assist in setting up for the reception they would host for members of Stephen's family who were due to arrive that afternoon. Fiona assigned Robin, Annabelle and Chris tasks in the kitchen.
Anna had already done a lot of preparation in advance for her employers. There were all sorts of items in the freezer that Anna had labelled. Included was a vegetarian wellington, which would be used on Christmas Day for both Annabelle and Harriette. Fiona's sister Julia, was coming from Stourpaine in Dorset to spend Christmas along with her husband and daughter Harriette. It meant there would be just eight for dinner on Christmas Day, which Fiona had thought best this year, with Annabelle still seeming frail and timid.
But Christmas Eve would be noisy. All of the members of the Grainger family who lived around Marlborough and smaller Wiltshire villages would visit on Christmas Eve. Fiona was arranging a huge buffet of hors d'oeuvres, to accompany the drinks.
Anna had made scores of mince pies, cakes, and pastries like like mini sausage rolls, vegetarian tarts, and choux pastry cases, all of which she had frozen. But in addition, Fiona had a long list of fresh canapes to be prepared. Chris and Annabelle were asked to slice salad vegetables and fruit, while Robin assigned the task of setting the tables. He knew all of the glassware and tableware, which the others didn't.
Fiona worked her way through her own list of culinary creations. Annabelle kept finding herself fixated by Fiona's speed in the kitchen. Robin had told Annabelle that years earlier, his mother had run her own private catering company and was still a wizard in the kitchen, but it was impressive to see her working at that pace.
Rufus alerted them all to the arrival of their first guests to arrive. Michael and Julia Chandler, along with Harriet were heard in the hallway being shown in by Stephen Grainger. Ten minutes later, Julia and Harriet entered the kitchen offering their services. Fiona was very glad of the extra help.
A lively afternoon and evening followed as more of the Graingers arrived. Stephen Grainger and Michael Chandler took care of making sure everyone's drinks were topped up. Stephen also cajoled Oscar into playing carols on the piano which a number of the Grainger family sang along to.
Chris did join in a few conversations with Robin's relatives, but he kept on returning to Annabelle who was clearly finding withdrawn.
Annabelle attempted to point out ot Chris all of the relatives she could identify. Stephen's brother Rupert Grainger, with his wife Sylvia arrived with their daughter Charlotte. Alastair Grainger and his wife Claire who was over six months along in her pregnancy. Oscar Grainger with his fiancee Mariëlle. Then there was Stephen Grainger's sister Diana Westbrook who had been divorced for several years. She arrived with her son Mark and his wife Kathryn, and their young daughter Rosie who had been a flower girl at Robin and Annabelle's wedding.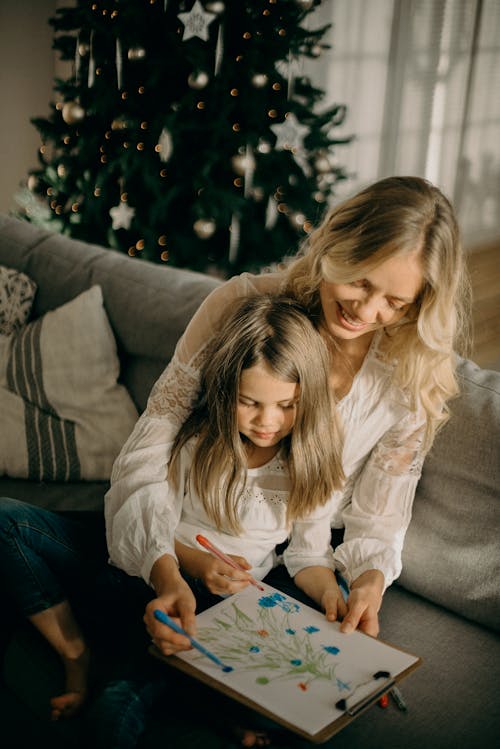 Annabelle could hardly keep up with all of the arrivals. She was delighted to see little Rosie again. In fact Rosie provided Annabelle a wonderful excuse to sit down. Rosie had brought a story book and wanted to read it outloud, so she curled up next to Annabelle on a sofa and read page after page to her.
After a couple of hours of drinks and canapes and chatter, Stephen Grainger started to divide the relatives and guests into teams for Pictionary. Rosie abandoned her story book, wanting to draw pictures like everyone else. Annabelle was glad to be occupied with her, as she did not have the energy for the shouting and laughing that was going on around her.
Annabelle was so attentive to entertaining Rosie, that she didn't once notice the eyes of one of the Grainger family who was watching her. Robin Grainger was almost amazed to think that Annabelle was so comfortable with five year old Rosie perched on her knee. He became quite choked thinking of what might have been. That could have been their own daughter Lucy.
***
"When would you like your Christmas present Robin?"
Robin grinned, "All I want for Christmas is you," he ran his hand down Annabelle's side slowly but firmly, "You've already given me a wonderful gift. That scarf is beyond perfect Belle. I showed it to my mother yesterday, she became quite choked up."
Annabelle rubbed her face against Robin's shoulder, "That was not your Christmas present though. There's something else. It isn't completely finished yet, but I can show you a preview. Would you like to see it now? Or should I wait until Christmas Day?"
"You want to give it to me now, don't you?"
Annabelle nodded, "I understand if you don't like it. It might not be your taste. But it's from the heart."
Robin was curious to know what Annabelle was becoming so excited about. When she asked him to turn on his laptop and type in his password, he did so. Annabelle then logged into her email account. She smiled at Robin, "Ignore the first bit, they were messing around so much. Can we sit on the bed, it's ten minutes because of all the rubbish at the start."
Annabelle clicked on an e-mail and selected the attached file. A face that Robin had not seen before appeared on the screen, "Hiya Annabelle, we've just finished off here and the engineers are going to start working on production. The guys said you wanted this on time for Christmas, but it's probably going to be the new year until we can wrap it up. Sorry about that Sweetie…"
"Who's that Belle?"
"His name's Jim, I'll tell you later Robin." The two continued to watch as Jim who was clearly using his phone to film his message started to get others who were with him to say hello and wish Annabelle a Merry Christmas. Robin could see a mixing desk and there were a several men he had not seen before in the background all shouting greetings. Jim then left the room he was in and wandered out into a corridor and then through another door.
As he entered another room a cheer erupted. Jim then filmed Nick, Liam, Rick and finally Dean as they sent well wishes to Annabelle. Dean's greeting included seasons greeting to Robin, and he said he hoped Robin would like his Christmas present. Addressing Annabelle again, he said that everyone agreed it would be better with a female singer. He said we showed it to Lola and she loved the lyrics. He explained that the delay in production was because of their respective record labels having to work out the rights on a collaboration. Then Lola appeared on the screen, shouting out her own greeting and telling Annabelle she loved the song.
Robin looked at Annabelle, "What have you been up to?"
She smiled and kissed his cheek, "It's coming."
Around a minute later the first drum beats, played by Liam began, followed by Rick's bass guitar. A few beats later, Dean's guitar was added. Lola backed by Nick sang the song. Robin turned the volume up on his laptop. At the end of the song, the band all cheered again and a garbled call of Merry Christmas Annabelle and Robin blasted out of the laptop speakers before the video cut out.
Robin put his hand over his mouth as he looked at Annabelle, "I told my parents the other day that I had seen you writing poetry, but you seemed a bit embarrassed by it. You haven't been writing poems have you? You've been writing lyrics!"
Annabelle squeezed her arms around Robin's torso, "Lyrics are a bit like poems. I didn't want you to see them until the whole song was put together."
"Did Dean write the music?"
Annabelle nodded, "I had a tune in my head for the chorus, but he has composed the music. Liam worked with him too. Liam is trying to get involved more with their song-writing."
"She's a great singer," Robin stated warmly.
"Lola has a beautiful voice doesn't she. It's not her usual style at all, but she is very happy with it. It's going to be released at the beginning of February, they reckon it will be popular just before Valentine's Day."
Robin smiled, "It's very romantic Belle."
"Do you like it Robin?"
He nibbled her ear and stroked her face, "I'm blown away. I don't know what to say. You are such a lovely lovely person. It's very touching Belle."
Annabelle looked a little anxious, "It's not your style though?"
"I didn't say that. Nobody has written a song about me before. You are used to it. The words are beautiful. I need to listen to it again to catch them properly. But it's very moving to think that you wrote those words about me."
"I just wanted to say how much I loved you," Annabelle murmured.
"Belle, you've done it in a spectacular way. I think you are going to be disappointed when you see the Christmas present I bought for you."
"That's not possible Robin. Being part of your family is so special. You've given me what I thought I would never have."
___________________
You can read the next part of Annabelle's story here:
Kim, the creator of Writer Side of Life has given us some great writing prompts. Several of them appealed to me, but I have only chosen one to work on for now, because I am still playing catch up with blogging, after my trip to Australia:
I chose a prompt under the ROMANCE section: 3. Who is she waiting for?