I know this is a very late post. But I did want to complete it as it was a question that certainly did provoke my thoughts.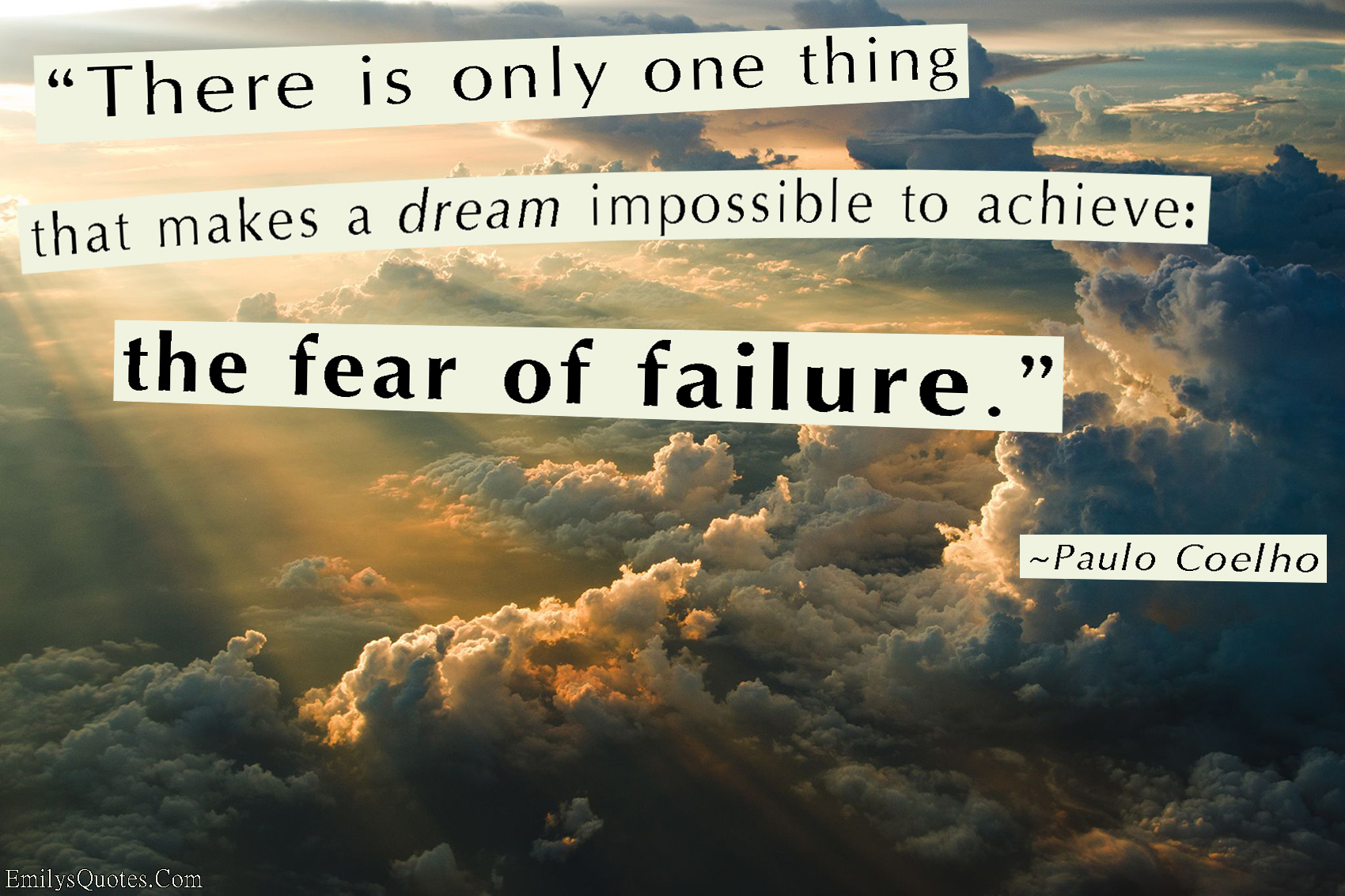 Back in May, Fandango asked us the following two questions as part of FANDANGO'S PROVOCATIVE QUESTION:
"Have you ever been so afraid of failing at something that you decided not to try it at all? What's one thing would you attempt to do if you knew you could not fail?"
When I was younger I think I had a fear that I would identify as nerves or shyness. At a very young age, maybe I was five years of age, mum took me to some kind of children's activity day at a local community centre. When we arrived and I saw all of these exuberant children running round wildly shrieking, I became gripped with fear. My eyes welled up with tears and I clung to my mum's hand tightly. She tried to persuade me to join the children and enjoy myself, but I ended up bawling my eyes out. Mum had to walk home with me. That is the first event in my life when I can remember what it is to feel fear and decide not to do something.
I remembered that day for a long time (I still remember it now), but the memory of it had a positive effect on me. I didn't want to feel that way again so I pushed myself to do what I was afraid of or nervous about. I don't remember being gripped by that kind of fear through the rest of school. I was secure and content at school. I was not bothered about being popular, and I ended up having a fairly easy passage through school on the whole. I excelled at school work. I was good at sports (because of the stamina that swimming had built in us) and I got on with people. I was in a popular group.
After school I became involved in voluntary projects, including construction projects, which I loved. I became close to two girls who lived in my town and for the next couple of years we travelled together all over England and Wales to work on various projects. We usually shared accommodation too. But then both of the girls dropped out for various reasons…paid work was becoming more important to them. They both had boyfriends and were preparing for the future I guess (they both married before they were twenty-one). The first time I was invited to a project miles away from where I lived, I felt that fear again. Going on my own made me nervous. I would be staying with a family I had never met, and would not have the other two girls to help me be chatty with them. I would be arriving on the construction site on my own and hoping I would see other volunteers I recognised so that I did not end up standing alone looking like a lost little lamb.
Why on earth did I feel nervous? It was wonderful. I was emerging from my shell and becoming more of my own person. It was so good for me to do things like that on my own and not rely on my familiar friends. I have rarely looked back since then. I have seized all sorts of opportunities that came my way and I have realized fear should not hold me back from all life has to offer.  I have realized that meeting new people, having new experiences, visiting new places are all wonderfully enriching and exciting. How happy I am that I have not held back. I have acquired an amazing treasure chest of friends and life experiences that make me me!
HOWEVER…
I guess the only area where I do hold back is when it comes to love. Maybe it's because I am such a realist. I know that whereas there could be many things that could make me a blessing and a bonus to someone I love, I could also become a burden (especially after my head injuries). I do have a fear I suppose that holds me back. I would not want the man I love to resent making a commitment to me, making sacrifices for me and making changes to his life to have me be a part of it. I can't bear the thought of the man I love slowly starting to despise me because I cost more than I contribute to his life – I don't just mean financially.
There are other fears. I fear making the man I love angry because I won't compromise on certain issues. It's not just a matter of being stubborn, it is my conscience I cannot deliberately go against. It has happened before. It's not easy when the man you love asks you to do something that is so much the opposite to who you are as a person. It has caused at least one of my meaningful relationships (my courtship with Jammy), and many of the fledgling relationships with men I had started dating, to crumble. If a man pushes me to do something that makes me miserable, my fondness for him, respect and trust for him fade, as I find it harder and harder to feel secure. I disconnect and an impenetrable wall goes up inside me.
It's not so easy to find a loving relationship that makes me thrive. I love giving. I love loving. But if I realize that the person I am is shrivelling up and finding it harder to breathe because of the unhappy cloud that has descended upon me, all I can think of is how to escape. I can overlook a lot. I can endure a lot. But I have a silent breaking point. "Silent" because I don't become enraged, no, instead I just vanish.  I don't want to hurt any man. In some ways…it is better to be in love with a man who lives on the opposite side of the planet, because hopefully those situations when I would either stand up for my conscience and disappoint him, or else give in out of a desire to please him, and then suffer the misery of a pained conscience, will not arise too often.
I think at times I should carry a sign on my head that says "DO NOT TRY TO MAKE ME YOURS, BECAUSE IT IS EXTREMELY UNLIKELY THAT I CAN BE WHAT YOU WOULD LIKE ME TO BE". I met my match. My match was Jack. Jack and I were on the same page with regards to all sorts of issues. We both knew it. We felt the same way about how to spend life, time, money. We both danced to the same beat. It is one thing that saddens me at times to know that there are many nice men out there, but men who I would make miserable and/or who would make me miserable because we would not be on the same page with certain issues.
I am afraid of being in a situation that is desperately miserable for both me and the man I love. These days I like to be realistic and make it clear to the man I love that I can be his best friend and there are a million things I can do for him out of love, but there are things I cannot do without destroying myself. I will love him the best I possibly can. I will be there to hold on tight through thick and thin, but there are issues I will not compromise on. It's harder than it sounds to find someone who really understands that and does not resent you for being uncompromising on matters that are no big deal to them.
I don't like the thought of a loving relationship as something that is doomed to failure. I am afraid of hurting someone I love. And then there is a fear, a morbid dread, of a repeat of the situation that occurred with Jack. I cannot bear the thought of someone I love becoming my enemy.
________________________
This was my very late response to FANDANGO'S PROVOCATIVE QUESTION:
https://fivedotoh.com/2019/05/22/fandangos-provocative-question-24/