This may well be my most confused and bemusing SHARE-YOUR-WORLD post to date! I was not sure how to answer some of the questions…so I have waffled! But as you can see I have a real thing for waffle, especially chocolate waffle.
If you are are lost in all my waffling, please do check Melanie's original post to understand the questions we were originally supposed to answer:
https://sparksfromacombustiblemind.com/2019/05/06/share-your-world-5-6-19/
QUESTIONS:
Do you believe in soul mates? If so, do you think there is only one person meant to share that bond with you, out there in the world?  (credit to Cyranny of Cyranny's Cove)
It's a very romantic idea. Hmm.
I do not think there is just one person out there and that you are "destined" to meet that person and live happily ever after. I do not believe there is someone out there, waiting for me to come and make them whole, to complete them. Neither do I think there is someone out there waiting to complete me. But it is a lovely thing to meet someone and feel butterflies in your tummy about them and for a relationship to grow that changes the course of your life.
The one man, of all the single men I have known (lots of married ones I knew were my ideal, but they were long since taken) that I knew was a match for me in every way was Jack. But look what happened there. I am too tired to think about Jack right now. And I don't want to be locked into thinking about Jack before my trip to Australia. But if anyone was my "soul-mate" it would be Jack. Same goals, same purpose, same outlook, same studious nature, same gift of the gab, same interest in other people, same love of socialising, same need of some quiet time on our own, same view of money and possessions, same devotion to being volunteers, same weaknesses (namely cake), same imperfections, same love of karaoke and monopoly. But he and I are estranged. And the situation seems impossible.
"….there could have been no two hearts so open,
no tastes so similar, no feelings so in unison, no countenances so beloved.
Now they were as strangers, worse than strangers,
for they could never become acquainted.
It was a perpetual estrangement." ― Jane Austen, Persuasion
With regards to Goldfinch, he and I are not a match on paper. But he appeared, like a miracle, and he was wonderful to me, and I fell into his arms and was so happy there. But I do not risk offending Goldfinch in saying that it is I who am the more in love. I love him and I wish things were different, but I have a realistic view of our friendship.
I already know there are differences in our thinking. They never became an issue while he was in England, because he was always going to leave. But if we together a long time, those differences would be challenging to deal with. Both of us would have to compromise. I suspect it would be me who would compromise the most. I could potentially be deeply unhappy, which would be sad because Goldfinch would not want for me to be unhappy. I would not want to disappoint him. I would hate for all the wonderful I have shared with Goldfinch to end bitterly. It doesn't lessen the love I have for him. But it helps me to be content with the awful geographical divide with the man who I love.
If two people are attracted to each other (and I mean their qualities and character, not just their physical appearance) and they start to invest in a relationship, and cultivate love, trust and respect. If they nurture those and practise unselfish love and giving. If they communicate openly and settle differences quickly. If they forgive and console and comfort each other. If they support and cherish each other. If they have fun together but also share the workload in caring for their responsibilities. I think that two people can become so close, act in unison…and it can feel as if you are "soul mates".
I guess I am only saying this because of all the wonderful married friends I have. Their bond has become more special over time. But that is because they have been committed to making their marriage succeed. They have worked on challenges together. They have resolved differences and misunderstandings. They have made sure they communicate and have fun together. Over time they have become an unbreakable unit, a wonderful example of what marriage should be.
There is not just one out there, there are probably numerous men out there that potentially I could become so close to that we felt like we were "soul mates". On the other hand, I know there are many other men who would make me run for miles and not look back. For now, I am more than content to have a great penpal who is happy to host me when I trek across the planet to see him.
Hmm…I don't think I have answered the question properly. I have just waffled on about my own experiences. The one man I seemed to be perfect for, and he for me – it was a disaster! I am now in love with a man who is not on exactly the same page as I am…but I love being with him.
Ice cream cone, shake or other ice cream concoction?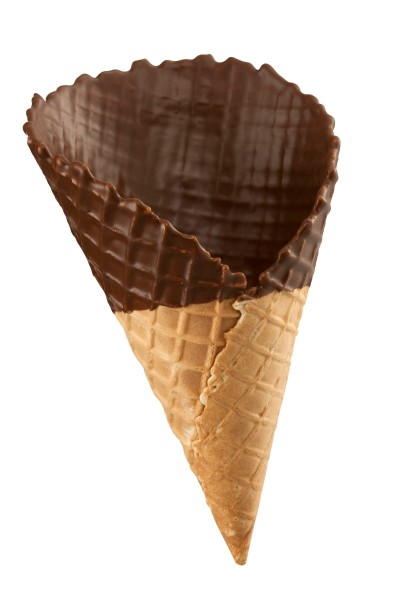 I love those waffle cones. Especially the ones with a chocolate layer.
And to be honest I would be happy to eat one without the ice-cream. I am not very good with dairy. But there are some nice dairy-free ice-creams and also some lovely sorbets that are very refreshing in the summer.
But unless it came with a waffle cone, I would not bother. The waffle cone is the main event and the most exciting part to me!
What would be the hat to end all hats? What could you wear on your head that would make people stop what they are doing and stare in awe and amazement?
Oh I don't know…I like hats, especially wide brimmed hats. I never used to like hats, but since I received head injuries, I really like hats.
There is one "hat" of sorts that I saw a photo of when I was looking for a travel pillow for my long flight to Australia.
I imagine it would be pretty comfy, but there is no way I am brave enough to stick one of those on my head during the flight. I shall be looking out for any passengers that do. Something tells me they are not going to catch on.
What would be the worst "buy one get one free" sale of all time?
I am looking forward to reading the replys from other bloggers to this question, because I cannot think of anything. My mind is still foggy after the "buy one get one free" deal I fell for last week. I am so annoyed with myself.
I wanted to buy a laundry bag that I could put several bras into to wash in the machine. I have about five small ones, which only fit one bra at a time in, and I have one medium one which will fit three in.
However, I ended up buying what I thought was what I wanted, and as it was "buy one get one free" I took two of the shelf. When I reached home I ripped open the packaging from one pack and there were two mesh laundry bags inside and they are huge. I think I would fit inside one of them. I cannot understand why they are so big. I guess if you were washing a dress with delicate embellishments. I now have four huge laundry bags, each of which would probably be able to hold every piece of underwear I own and all of my socks and stockings thrown in as well…and more!
Does anyone need a gigantic mesh laundry bag??? I have three spare.
HAVE AN ATTITUDE OF GRATITUDE!
Bonus Question.   Please share a moment of gratitude that you experienced during the past week. 
I am grateful because I found the shoes I had been looking at online (way too expensive at £59) in a charity shop, as good as new. I bought them for £7 from the charity shop. I was delighted.
They might not look special, but they will go with all the outfits I am planning to take to Australia. I am taking navy and tan/beige clothes in general.
But in general I just love every text message, every e-mail, every phone call I receive from Goldfinch – they mean so much. They are the highlight of my life. I want to go to Australia and thank him for keeping my heart flying although he is so far away.