Today is a giant cook-athon! I am going to start this post with an idea of what I will be busy with.
One of the dishes I am making a lot of (most of which will go straight into the freezer) is stuffed peppers. The delicious filling and melt in your mouth roasted pepper is a winner with everyone. I featured it in a post I wrote when I was a new blogger. It was a bit of a comic post for me because I did not have a clue what I was doing with blogging, and I kept seeing amazing foodie blogs. I knew I was never going to be able to aspire to the standards set by the wonderful food bloggers out there, but I wanted to have a little fun with the concept of foodie-blogging. It was the first time one of my posts received lots of "likes". I was so grateful for the feedback. It was a massive boost to my confidence and enjoyment with blogging. I enjoyed putting it together so much:
I am also going to make two types of soup today. One is a butternut squash soup. Yum yum yum yum! It is a recipe I have been making in bulk and freezing once a month since October, I can't get enough of it! It is very cold at the moment here in England, and I think there is another week of cold cold weather ahead – having yummy soup to help warm your cockles is a very good idea.
I am also making roasted beetroot and garlic soup. If you like beetroot, this is a delicious soup. I must admit I have went off beetroot for years – because at school it was a veniger soaked slice of strangeness, But in recent years I have rediscovered beetroot and it has livened up my dairy-free vegetarian cuisine a lot.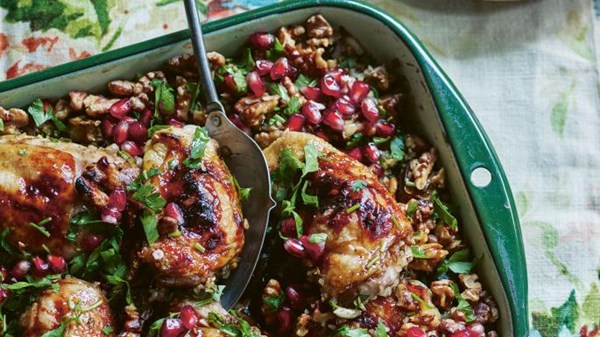 I am making a chicken dish as well. It has aubergine (egg-plant) walnuts, buckwheat, orange-zest, pomegranate molasses all over the chicken and once it has been cooked, fresh parsley and pomegranates. Yes I am a vegetarian who cooks meat for other people. I am going to put all of the chicken dish straight into the freezer thought.
I have lots of house-work to do at some point too. I was so ill last week, I only gave my little nest a light going-over. This weekend, it needs a more thorough clean. I love cleaning so, it will be a pleasure.
All this wholesome activity to occupy me – which is good because, I have something on my mind…but  am going save that for another post.