There was one day when I had the most incredible news of my life. Have you ever received news that meant so much to you that your heart leapt? News that gave you a huge surge of elation.
When I saw the picture prompt from The Haunted Wordsmith it brought back to my mind that elation, the heart-leaping, spirit-soaring, joyful jubilation of hearing news that you have been longing for throughout many years.
I remember that day vividly. It was such a strange day in many ways.
I think I have mentioned that it was March 1997 when I first became involved in a local charity's project and started my career as a volunteer. In May I started study leave for my GCSEs. I didn't do any revision for my exams – I was fortunate to be able to rely on the many years of paying attention in class and doing my homework. But I was so glad to be free! At last I found something purposeful.
I was able to work on some extraordinary projects throughout the north of England and Wales and worked with thousands of people. I became part of a core team that helped to train new volunteers. There are some very special people I want to write about in the future.
Ten years later, I left home in order to be able to work as a volunteer in a part of Southern England, where there were a stack of projects and not many volunteers (partly because the cost of living in that area is so high).  Although the first year was hard, because I missed my family and friends up north so much, it did not really take me too long before I started to feel at home down south.  I made many wonderful friends and fell in love with the countryside.  I ended up living on the grounds of a beautiful stately home and being allowed to roam their gorgeous estate, and because they trusted me, I paid peanuts for my accommodation, which was another fortuitous factor in my volunteer career in the south of England.
For all that time, I gave at least twenty hours each week to voluntary projects for which I was unpaid. In addition I worked on a part-time basis to earn the money I needed. I learn to live frugally and I am very glad of it.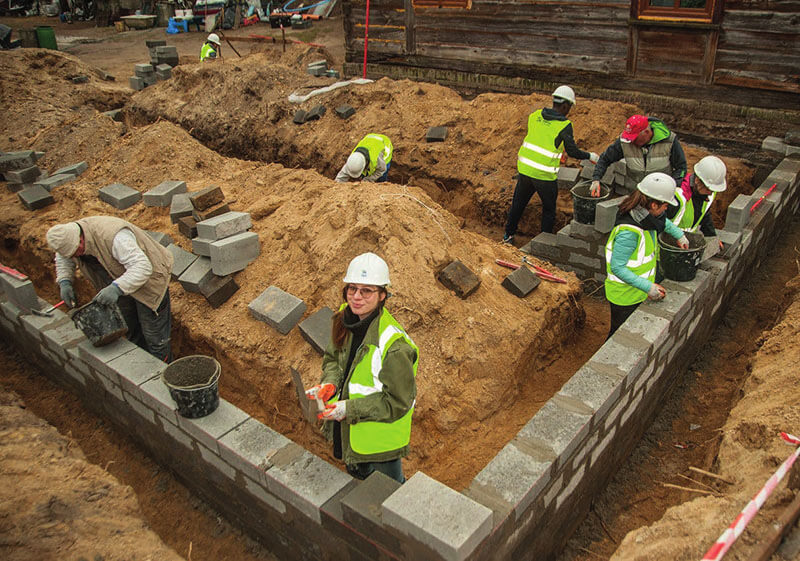 I longed to become a full-time international volunteer. I had met many who were. But I was given a very realistic description of the challenges that are involved in that role. The accommodation is very basic and modest – well small, very small. There is a a strict schedule and volunteers are often required to work "over-time". There can be challenges when sharing kitchen and bathroom areas with other volunteers who come from different backgrounds and cultures. The physical demands and difficulties in the various challenging assignments can be exhausting.
For many reasons, the number of single men vastly outweighs the number of single women. There are many many part-time roles for women, but the role of a full-time international volunteer is so tough, that it is normally only men who are invited to take up this role. The physical, emotional, mental tests they put you under are designed to reveal if you really can take on a self-sacrificing role and if you really can be sent anywhere in the world and adapt to any way of living. Many men cannot hack it. Yet in general, they are more likely to endure and remain in this role for longer.
When I was living on a shoe-string in the south of England, I was involved with projects all over Berkshire, Hampshire, Oxfordshire, Wiltshire, Dorset and Bristol and beyond. I was also handling the accounts for local charities and had to deal with a complicated situation where a celebrity had made a huge blunder (it was sorted out eventually, but we almost had to get the police involved). To earn my crust, I worked within healthcare – I had a bank contract for zero hours a week. There were always shifts available, but mostly I worked for two six hour shifts a week. For two years I managed to live on my wages from twelve hours work, so I could devote more than thirty hours each week to working with charities on an unpaid basis. I was happy, very tired at times, but deeply happy.
Now a special man, a friend, created an opportunity for me (I will save that story for another post!) and some time after that I received a telephone call, asking me if I would be able to travel up to London for a training day, as they would like to start using me on important projects on the site where all of the UK projects and around 25% of international projects were organized from. I was thrilled!
I went for the training day and fell in love with everything and everyone. My heart was bound up with the site in London which was an absolute hub for volunteers. There were 540 full-time volunteers at the time. (That number rose to 800 during the next three years.) Around half were married couples and the other half were single men. There were around ten single women, five of whom were over sixty years of age and had been widowed. There were also around 200 who worked their part-time. Over half of those part-time volunteers were single women. I was told again and again that it is extremely rare that any single women would be asked to become full-time volunteers, because of the challenges involved. On occasions, when it did occur, it would be if a single woman had a very specialist skill that was needed. Over the next six months I drove backwards and forwards between London and my accommodation on a countryside estate. It was seventy miles each way. I was doing two night shifts each week in London. I must admit doing night shifts did effect the rest of my week. But I managed. I had a very difficult and demanding schedule for six months during which I often felt I had jet-lag.
The night shifts were necessary because they had an infirmary for volunteers who were seriously ill. Most of the patients were well into their nineties and were now effected by dementia, although their mobility was excellent. Most of those we were caring for had sacrificed opportunities to marry or start a family of their own because they were devoted to volunteering. So now, we became their family and gave them a very special standard of nursing care, marked by love and appreciation for all they had done and how special they were to all of the people they had helped over the decades. We also had patients who were receiving palliative care as they had advanced cancer, including some young ones in their twenties. Very brave. They could have returned home, but they wanted so much to keep their hand in volunteer projects for as long as they could and be near the other volunteers who had become like a family to them.
Then one day, they asked me if I was willing to come to London to work for two day shifts, the first was a Friday and the second would be the following Monday. I jumped at the chance. Working night shifts meant that I had very little chance to meet many other volunteers, just the direct team I was working with in the infirmary for volunteers who were seriously ill.
But during the Monday night shift I worked a few days before I was due to do my first day shift, since the day I had been trained six months earlier, I found out some news. I had mixed feelings. Suzie, the girl I was working with, told me that another part-time volunteer, who was a single woman, had been invited to become a full-time volunteer. Her name was Marta and she was German. I had never worked with her. She was a psychologist.
I wanted to be happy for Marta, who I had never met. However, I was crushed. All my hopes seemed dashed.
I drove back to the countryside on Tuesday morning after my night shift and stayed in bed all day, weeping. But then on Wednesday and Thursday I walked out in the woods and muddy fields through the pouring rain. I sobbed and sobbed and sobbed. I was so bitterly heart-broken, but I couldn't tell a soul about it. I found myself wishing I had never known the joy of meeting so many wonderful people and the satisfaction of slaving for others. I had never been so overwhelmed with sadness. It was awful!
On the Friday morning, I left my accommodation at 4.30am to make sure I was not late for the 6.30am arrival at breakfast, they had asked of me. I was rather nervous of walking in alone to a huge room where 400 would arrive for breakfast. I still remember who I was sitting with around the breakfast table that morning.
After breakfast I went to the infirmary and received my work assignment for the day. It was so different to be there during the day-time. I was able to do some work with Suzie, but also spent time with other volunteers I had never met before. I met Marta for the first time that morning. Kevin, the supervisor who had been coordinating my shifts for months asked me how I had heard and seemed to apologise to me because I think he knew how much I would have loved to be there full-time. Several of the volunteers I worked with during the day were very chatty but the question was asked of me several times, would I like to be a full-time volunteer. I was on the verge of tears again and again. None of them could know I had cried for the previous three days because I was convinced there was no possibility of being asked now that Marta had.
I had lunch with Suzie and Nadine (another of the girls I worked with in the infirmary) and Nadine's husband James. After lunch, we went back to work. Kevin asked me if I could make sure I was available in about half and hour and asked me to be at his office by 1.30pm. I made sure I had finished my tasks and was there at the time he had asked of me.
I was so nervous before I went though. I had been fighting tears most of the morning and I was not sure i could keep myself composed in front of Kevin. In addition I was going to have to tell him that I could not do as many night shifts as normal for the next month because I had to attend a training course and I was going to be moving home. I could no longer afford my accommodation (even though it didn't cost a lot) so I was moving into a spare room that was part of a farmhouse, where I would be helping care for the animals on the land.
Well, I knocked on the door, and Kevin opened the door and closed it behind me once I had entered. I was surprised to find one of the directors named Rod, who managed the entire facility there.
I sat in front of them very nervously. They asked me if I was enjoying my work there. They wanted to know how I was finding the travelling and how was doing night shifts effecting my regular week. I found it hard to talk, I am sure I felt myself crimsoning. Then they started talking to me about why Marta had been invited to become a full-time volunteer and how her experience in psychology were needed because they had a volunteer who had cancer who had suddenly lost her husband who had a massive heart- attack and died in one night. His bereaved wife had suffered a serious nervous breakdown and was in need of specialist care.
I nodded. I knew there were good reasons why Marta had been chosen. I knew I should be happy for Marta and for the infirmary that the needed skills had been available at the right time. They explained to me how very hard it is to obtain approval for a single young woman to become a full-time volunteer and how it was only given in exceptional circumstances. I nodded.
Then they explained that the infirmary was becoming busier and busier and they needed to expand it. More rooms, more volunteers. They knew I was one of the most experienced of the volunteers in healthcare and that I had showed already by my reliability and my attitude that I was eager and willing. They said they had hoped that I might be able to help to train new volunteers and to advise them more closely on needed equipment. They asked me if that was something I wanted, would I like to be more involved? Would I!
And then…
…they told me that when they had asked for permission to invite Marta to become a full-time volunteer, they had decided to request permission to invite another single woman to become a full-time volunteer, because they felt there was so much need within the infirmary. They said that they had approval to invite Marta two weeks before. And they told me that during the course of that very morning they had been informed that they had permission to invite another single woman in as a full-time volunteer…
…and that single woman was me!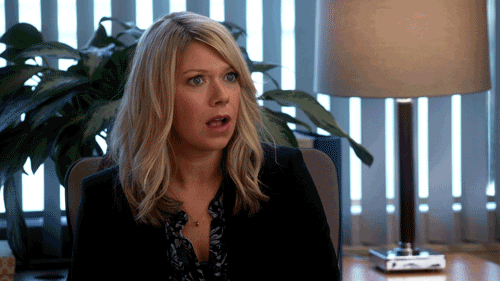 I must have looked completely shocked. Well, I was shocked! Speechless. It had never crossed my imagination they would be able to invite both of us to become full-time volunteers. They said if you don't believe it, here it is in writing. They handed me a long white envelope with my bame typed out on the front, and told me to take it home and think carefully about it and to let them know. But they wondered if I could give them an idea if it was likely I would accept. I was gobsmacked! "YES YES YES!" They asked me if I minded if they told the other team members, because the whole team had wanted me to become a full-time volunteer. I said "of course!". We opened the door and all three of us left the office. Suzie was just outside the door and I remember her looking at me with a quizzical expression.
At 2pm there was a meeting for all the infirmary staff. The supervisor and the director I had been in the office ran through some important information with the whole department. They then asked if everybody knew that there was going to be a new full-time volunteer joining the team. Everyone nodded and affirmed they knew Marta was going to be joining them. Rod shook his head. He said, "haven't you heard that we are going to have another full-time volunteer?" Everyone was surprised and asked who? Rod and Kevin pointed at me!
I will never forget the reaction of the rest of the team! Everyone was so pleased. I was hugged by everyone. Some of the team said they had been praying for me to be invited in.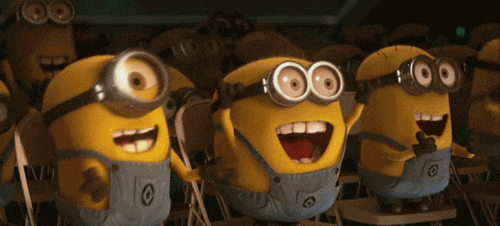 What a day that was! That picture right up at the top – the picture prompt – that is just how I felt. Heart-leaping, spirits-soaring, joyful jubilation! That was exactly the way I felt that day! I had never felt so utterly thrilled about anything. After the day was over, I went out to the car and rang my parents and my sisters! Then I drove over to some very close friends I was spending the weekend with. Three girls who I had worked with on many volunteer projects and loved the company of. They were thrilled for me.
Within a month I was living in London, sharing a tiny flat with Marta and Suzie. Three of us sharing a bedroom. Bunk-beds and a wall-bed. We shared a tiny kitchen and bathroom and had a living room which had a two-seater sofa and and armchair and a desk. But we had French doors and a balcony that looked out onto a lovely view of a green park with a cedar tree and a luxury apartments development where footballers, popstars and people had too much money lived next door to us. I still reckon we had a better view than they did as they were looking at our much more modest block of flats!
Moving to London to become a full-time international volunteer was like a dream. It was like coming home…even though I had been happy before.  I was happy on a different level. Everything felt right. The routine, the dignity, the rewarding work, the huge numbers of people I saw and worked with. I found I didn't miss receiving wages. My main assignment would be in London, but at any point I could be sent elsewhere. I loved the astonishing variety London life offered. I found that I was thriving in this life-style.
I was deeply joyful and content – my life was challenging at times to be sure but deeply satisfying. I was truly happy. And then Jack was invited to become a full-time volunteer…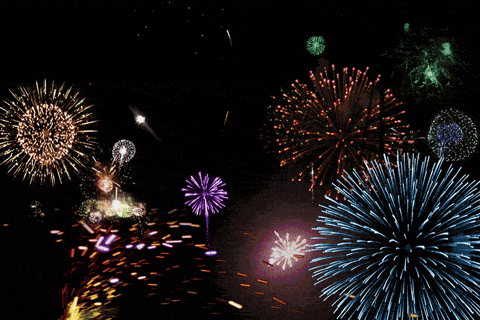 https://thehauntedwordsmith.wordpress.com/2018/11/23/daily-writing-challenge-nov-23/
https://wordofthedaychallenge.wordpress.com/2018/11/24/imagination/