I noticed that for this week's FANDANGO'S PROVOCATIVE QUESTION we are asked: "What's Your Style?" So I am linking one of my older posts in which I answered Rory's questions on style.
I have surprised myself by being able to answer all of the questions in Rory's latest "Game-On" challenge.  Afterall, I have been shopping in charity shops since I was sixteen because as a volunteer, I did not have much spare cash for clothing.  I know nothing of what is supposed to be the fashion.  I just know what I like and what I think looks good.
Just in case you have not seen them before, these challenges are created by the marvellous A Guy Called Bloke and K9 Doodlepip! and in his post below, he lists all of the rules and explains the challenge:
https://aguycalledbloke.blog/2018/10/12/game-on-series-2-fashionista/
Daily Topic Subject – Fashionista!

Q1] How important is colour in your life?

In my life…oooh, well colour is gorgeous.  Goodness, imagine life without colour! Wouldn't that be boring!
Q2] What is most favourite colour to wear?

Well, I like blues and greeny blues, teal I guess. Any colours at the cooler side of the rainbow.
I use navy as my base colour instead of black.  As I think black makes me look too pale and sickly.  I team various shades of blues and teals with either neutral items or tan leather or accessories.
I used to have something in every colour going, but ended up with too many clothes, most of which could not make a matching outfit.  I  have a very small wardrobe now, so I have a capsule wardrobe all based on my favourite colours.
Q3] Is there a colour that you wear that brings the best out in you and in others – in so far as compliments?
Frustratingly…people love me in pink.  It is because I am fair with golden hair and I turn pink very easily.  My rosy cheeks look amazing in a rosy pink top.  Not hot pink, not pale pink, but that rose kind of pink.
I always receive compliments whenever I wear that shade of pink.  So, I do have a bit of it in my wardrobe.  I have a couple of navy dresses with a bit of pink in the floral print and I team it with a little pink cardi.  It is something I would wear when I am feeling a bit low, as I know people will say I really suit that colour.
Q4] Are you a person who likes to overdress for the day or are you a follower of the credo, less is more?

In every day life, if I am out and about, meeting and greeting, socializing, and especially when I am wanting to look lovely for Goldfinch, I love wearing a dress, a beautiful dress, or a day-dress.  I just love feeling feminine.  Most of my dresses are knee-length or just below and they are "fit & flair" style as it suits me more than a straight cut dress.
If I am gardening or cleaning or decorating or digging trenches…or taking a dog for a walk, or jogging, or hiking up Cadair Idris, I am going to wear something appropriate for the occasion:
PQ5] What are five of your best items of clothing that you simply couldn't be without? [and l don't mean underwear/socks]

Oooooh…it depends on the season.
Now that the cold weather is ahead, I would not be without my 100% waterproof Gortex tan leather boots.  Someone gave me some money to go and buy some good winter boots because my old boots were springing leaks and I bought a pair in Clarks in the sale for about £70 and I love them.  three years later they are still in almost perfect condition despite how often I wear them in the wintertime.
Also in the winter I love my big thick navy coat.
My big woolly scarf which is navy and teal check.
I have a "go-to" dress when I am not sure what to wear.  It is a navy Phase Eight dress, and I love the shape.  It is "fit &  flare" and it is incredibly flattering and easy to team up with most items in my wardrobe. I found it in a charity shop and snapped it up and I love it.
In the summertime this year I realized how much I needed a pair of pretty, but solid sandals.  I found it really hard to find a pair I liked but then one day when I was desperate for more comfortable footwear I found a pair up in Manchester in "Office".  I wrote all about them in this post:
Q6] Do you dress for the season, as in colour wise, or just throw on whatever is warm and practical?

I do dress for the weather.  I don't really change my colours drastically…most of my clothes are blue or teal or navy.  I might wear more white in the summer.
PQ7] If you were going for an evening out and the dress code was 'smart casual' what is your ideal outfit and why?

If my friends tell me (and I often need their advice) that is more of a dressed-up jeans smart casual, I have some pretty tops and jackets that I can team up with jeans.
Left to my own interpretation, if I was told the dress code was smart casual…my first choice would probably be a dress, knowing me.  But a dress that was not too glamorous or opulent. A navy day-dress with a thin tan belt. I would probably wear it with smart but flat ballet pumps, which give a dress a more relaxed feel.
Q8] If you were having to attend an important meeting or appointment and the dress code was smart – what would your outfit be then?

If it was a business meeting or an interview…
…something more along these lines.
Q9] How many pairs of shoes do you own, and what is the breakdown [as in casual, smart, evening, leisure]

I feel rather embarrassed about this.  So recently, my sister Milly went up to my flat up in North London to retrieve some things that would be useful to me.  Only she brought back so much more than I expected, and for some reason she decided to bring my entire shoe collection.  Well, actually, I have a few pairs of footwear up at my parent's home and at my sister's homes.
The problem is…I am very good at finding bargains in charity shops after years of practice.  Most pairs of shoes I have bought for just £2 or £3.  I look after them because they are well-made shoes, and I have a friend who is a cobbler who has helped to keep my shoe collection looking polished!
I can't face counting them, but I can tell it is at least fifty pairs (I should have a sort out and give some to charity shops, because I don't need them all – especially not the stilettos!)
Q10] Do you have classic clothing, or classic items in your wardrobe that you have had for years and never go out of fashion if so name three?

I have a black pair of tailored trousers…
and a beige trench-coat…
and a pair of smart black heels…
that I guess could never really go out of fashion.
I feel like they are a kind of Audrey Hepburn look and can be worn by anyone of any age and make them look smart and stylish.
Q11] Are you into plain colours, wild colours or outlandish designs or a mixture and which do you favour more?

I don't think I am into anything outlandish.  I think on the whole my dress sense is rather conservative.  I like to wear beautiful dresses, but on the whole I like to wear clothes that are modest, well-made, appropriate for the occasion. I don't like to draw attention to myself, but I like to be well-presented and look as if I am making an effort.
PQ12] Do you have a favourite quote with regards fashion or design – if so what is it?

Nope!
I don't think about fashion. I don't talk about fashion. 90% of what I own I bought in charity shops.  It is only good quality footwear and underwear that I am willing to buy new!
But I found one quote which isn't completely laughable to me.
Q13]  Knee high socks, ankle socks, shin socks or no socks?

If I am playing hockey…knee high socks.
If I am jogging…little ankle socks.
What are shin socks?  I don't know what they are…are they like socks with shin-pads sewn into them?  If so, they would be great for hockey.
If I am wearing sandals…no socks.  If there is one crime against style it is socks with sandals – aaaaaagh!!!!!
Q14] Can you see the connection between colour and music and if so does it influence your dress code for the day in any way?

I don't think my mind is wired to see the connection between colour and music other than they both make life rather exquisitely wonderful!  I think they both sensational gifts that make life anything but boring.
I don't think music influences my dress code.  I love colours, but for practical reasons (lack of space), I stick to my capsule wardrobe of blues and teals and tan leather.
PQ15] If you are going out somewhere special and want to listen to some music to put you in the mood whilst getting dressed up, what do you listen to? [Provide link please]

I don't normally dress to music.  I might put on some music to get me in the mood for going out, depending on where I am going.  I am trying to think of a song about dressing up before going out to somewhere special…this is the tune in my head (probably because I used the word "sensational" in my previous answer):
Q16] How often do you buy new clothing for the season or the year?

If something I already own and is very useful is wearing out, beyond repair, I start to pop into charity shops to see if I can find something similar to replace it. I do pop into charity shops from time to time, always on the look out for a bargain.
Q17] Remember tie-dye from the 70's was it a thing you followed, bought into or worse, how do you feel about it now?

Well, I don't believe I ever wore anything tie-dye. But that is probably because I am a child of the eighties.  I think I would have liked it, I liked bright colours and wore all sorts of colours as a child.
I don't think I would wear it now though…I don't like to dress in an entire rainbow of colour, I think I would feel too conspicuous.
I don't have any strong feelings about tie-dye. For those that can pull off wearing the entire rainbow – good for you!
Q18] What is the brightest coloured item of clothing you have in your wardrobes/drawers?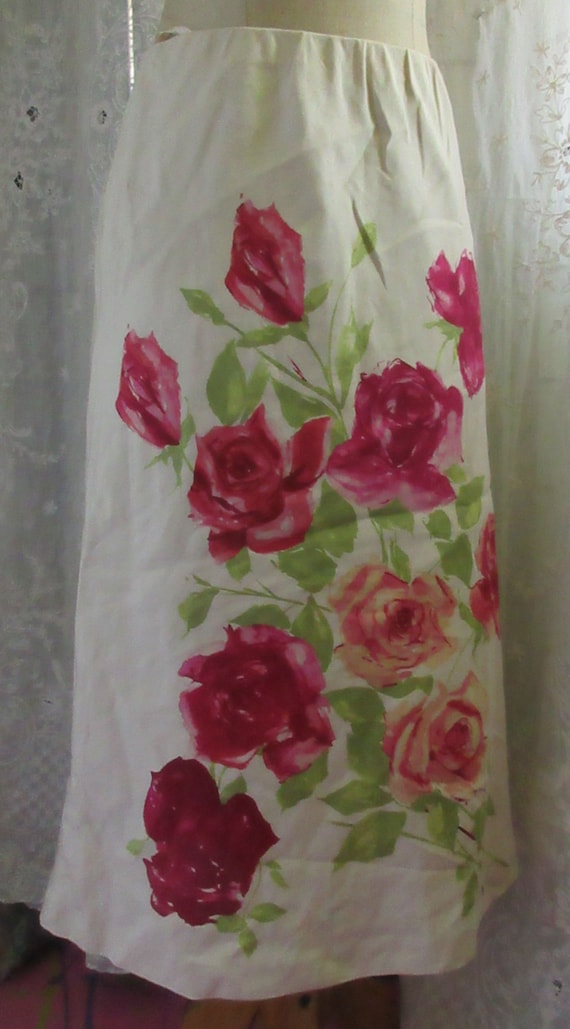 I have a raspberry Laura Ashley light cardi.  It is pretty.
I wear it with a Laura Ashley skirt which is beige but has a rose print on it.
Everything else in my wardrobe is navy, teal, blue, or neutral colours.
Q19] What is the most expensive item of clothing that you have in your wardrobe? How often do you actually wear it?

Well…I think the item that was the most expensive originally is a Windsmoor winter coat which I found in a charity shop with the labels on and snapped up for £20.  I feel as if it is one of my best bargains.
I guess the most money I have personally spent was the £75 for the Clarks boots I mentioned earlier in this post.
PQ20] Are you deleting any questions, if so which ones?

Not this time.
Q21] Is being 'fashionable' important to you, or is being comfortably attired  more so?
I don't feel as if I am "fashionable". I am not really aware of what is in fashion at any time.
However, I think I have a style.  I wear what is appropriate for the occasion – so practical clothes when I am doing practical tasks, and then when I am not getting my hands dirty, I wear dresses.  I have always liked beautiful dresses, right from childhood.
I loved running round playing football, climbing trees and riding my bike in shorts and a T-shirt…but I also loved pretty dresses.  I explained how my sense of style developed in this post:
"I also had issues about the uniform – well it was grey…as some school uniforms are. I said to Mrs Richardson "Yes, I know all the other children have to wear a uniform, but what I don't understand is, why do I have to wear a uniform?"  I didn't see myself as one of them, but that I was being forced against my will to be at this school. Well….whatever I said to the teachers, I was allowed to attend school throughout the infants and wear my choice of clothes rather than the uniform. What did I wear?  I had so many pretty little girl dresses that had been given to my mum by my dad's customers and friends. Quite an impressive wardrobe. I remember some of them vividly.  Although I also loved wearing shorts and T-shirts at home, I was too proud to wear shorts for school, I did want to be smart.  It sometimes strikes me as odd that although I was such a tomboy in so many ways – I always loved my dresses."
I developed that sense of "style" as a little girl and it has ever left me.  Although I have had a life-time of "hand-me-downs" and charity shop clothes, I have always chosen items that I feel comfortable and confidant in.  Hardly anyone would have any idea that I don't buy my clothes first-hand.  Stylish on a shoestring!